Kundalini Yoga for Circulation and Detox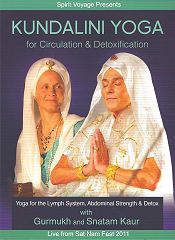 BUY NOW FOR: $16.95
Retails for - $22.00 You save - $5.05
Ships FREE to US Retail Customers (USPS Media Mail)
Normally ships from our warehouse in 1-2 working days
NTSC Region 0 - for world-wide enjoyment!
Yoga for the Lymph System, Abdominal Strength and Detox
Kundalini Yoga for Circulation and Detoxification was recorded live at Sat Nam Fest - 2011. Join hundreds of yogis as you practice this incredible yoga set, and be uplifted and inspired by the group energy, no matter where you are.
(Continued below)
CUSTOMERS WHO BOUGHT THIS ITEM ALSO BOUGHT:
This 90 minute yoga class focuses on a healthy lymphatic system. The lymph system is an important part of the circulatory system. A healthy lymph system is critical in maintaining the body's immunity.
A strong lymph system will detoxify your body on a daily basis, eliminating toxins and waste from your system. It also serves to eliminate excess fat from your body. The lymph system is directly responsible for the elimination of cancerous cells. Support your health with this incredible yoga set.
This class was taught by Gurmukh with live music and meditation led by Snatam Kaur accompanied by Thomas Barquee and Ramesh Kannan.
Introduction
Tuning In (Ong Nampo, Guru Dev Namo)
Venus Lock Twists (Music: Chattr Chakkr Vartee)
Knee Bounces (Music: Wahe Guru)
Seated Kicks (Music: Ek Ong Kar Sat Gurprasad)
Arm Pulls (Music: Ek Ong Kar Sat Gurprasad)
Body Drops (Music: Har Har Har Har Gobinday)
Side Bends (Music: Tithai Too Samrath)
Neck Stretches (Music: Sa Ta Na Ma)
Lion Lick (Music: Instrumental)
Bouncing Squats (Music: Ram Ram Hari Ram)
Calf Stretches (Music: Adi Shakti Namo Namo)
Sufi Grinds (Music: Adi Shakti Namo Namo)
Head Turns (Music: Adi Shakti Namo Namo)
Lateral Arm Waves (Music: Adi Shaktki Namo Namo)
Hari Hari Meditation (Music: Har Har Har Har Har Har Har)
Swaying Stretch (Music: Many Lifetimes)
God and Me Meditation (Music: God and Me, Me and God are One)
Deep Relaxation (Gobinda Gobinda Hari Hari)
Closing Prayer (Music: Long Time Sun)
PRODUCT DETAILS
DVD running time = 90:00
UPC: 884501704878
Director: Karan Khalsa
Manufacturer: Spirit Voyage. Released: 2012
Catalog: DV05022
Product Dimensions: 7.5 x 5.4 x 0.35 inches (19.0 x 13.7 x 0.9 cm)
Shipping Weight: 0.25 lbs (0.11 kg) Shipping Options
Yoga Technology Sales Ranking (all products): 6
OTHER PRODUCTS BY OR FEATURING GURMUKH:
Below you will find our selection of other products by Gurmukh, competitively priced, and with FREE Shipping to US Retail Customers.

The Eight Human Talents
$12.95

Bountiful Beautiful Blissful
$12.95


For over three decades students in Los Angeles and around the world have sought Gurmukh's classes in Kundalini Yoga, meditation, and pre- and post-natal care. She is a co-founder, along with Gurutej Kaur, and director of Golden Bridge Yoga Center in Los Angeles, the region's premier center for Kundalini Yoga and meditation. She teaches classes there and around the world. Gurmukh is also author of a number of books and instructional DVDs.

With the release of Prem, Snatam Kaur announced the beginning of her solo career and, under the wing of wizard producer Thomas Barquee, many popular CDs followed. Mantra aficionados rushed to buy her albums – Shanti, Grace, Anand, Live in Concert, Liberation's Door, Ras, Feeling Good Today (the soundtrack for her children's DVD - Shanti the Yogi), Divine Birth, Evening Prayer and her latest release Sat Nam – songs from the Khalsa Youth Camps.