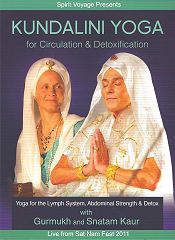 BUY NOW FOR $16.95
Retails for - $22.95 You save - $6.00
Ships FREE via USPS to US Retail Customers
Normally ships from our warehouse in 1-2 working days
NTSC Region 0 - for world-wide enjoyment!
Kundalini Yoga for Circulation and Detoxification was recorded live at Sat Nam Fest - 2011. The winning team of Gurmukh and Snatam Kaur are together again, to teach this 90 minute Kundalini Yoga class for the lymph system, improving the body`s circulation, detoxification and immunity while also strengthening the abdominals.
Join hundreds of enthusiastic yogis and experience their group energy in this 90 minute class, as you practice this incredible yoga set, and be uplifted and inspired by the group energy, no matter where you are. You will be powerfully motivated during some of the more challenging asanas by the connection between the on-screen participants and yourself. You will also be given information about the purpose and effects of each asana as it begins.
This is a great class for beginners and experienced practitioners alike. Give it your all for an amazing workout. Enjoy the great mix of powerful and soothing asanas that will get the energy flowing in your body quickly and noticeably, as well as the fabulous live music, provided by Snatam Kaur, Thomas Barquee and others.
Be inspired by the teaching prowess of Gurmukh. She has an incredible ability to inspire you to when your mind wants to give up. Also, the grace and sweetness of Snatam's voice will help carry you through each component of the class, and take you deeper into yourself. You will also experience the integral role that mantra and music play in the practice of Kundalini Yoga kriyas and meditations.
A strong and healthy lymph system will detoxify your body on a daily basis. It is an important part of your circulatory system, critical in maintaining the body's immunity, helping to eliminate toxins, waste and excess fat from your system. The lymph system is directly responsible for the elimination of cancerous cells. Regular practice of this powerful yoga set will do much to fortify your health.
If you enjoyed Kundalini Yoga: Healthy Body Fearless Spirit, then you are going to be enthralled and uplifted by Kundalini Yoga for Circulation and Detoxification. Practice this class regularly, whether once a week or daily for sadhana, and you will soon start to experience the transformation!
Introduction
Tuning In (Ong Nampo, Guru Dev Namo)
Venus Lock Twists (Music: Chattr Chakkr Vartee)
Knee Bounces (Music: Wahe Guru)
Seated Kicks (Music: Ek Ong Kar Sat Gurprasad)
Arm Pulls (Music: Ek Ong Kar Sat Gurprasad)
Body Drops (Music: Har Har Har Har Gobinday)
Side Bends (Music: Tithai Too Samrath)
Neck Stretches (Music: Sa Ta Na Ma)
Lion Lick (Music: Instrumental)
Bouncing Squats (Music: Ram Ram Hari Ram)
Calf Stretches (Music: Adi Shakti Namo Namo)
Sufi Grinds (Music: Adi Shakti Namo Namo)
Head Turns (Music: Adi Shakti Namo Namo)
Lateral Arm Waves (Music: Adi Shaktki Namo Namo)
Hari Hari Meditation (Music: Har Har Har Har Har Har Har)
Swaying Stretch (Music: Many Lifetimes)
God and Me Meditation (Music: God and Me, Me and God are One)
Deep Relaxation (Gobinda Gobinda Hari Hari)
Closing Prayer (Music: Long Time Sun)