| | | |
Chakra Balancing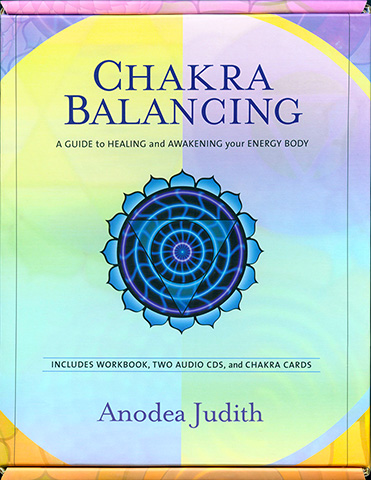 BUY NOW: ONLY $23.95
Retails for: $29.95 You save: $6.00 (20%)
Use Chakra Balancing to Awaken Your Body's Subtle Energy
Chakras are the seven spinning energy centers of the human body that control every dimension of our physical, mental, and spiritual well-being. Now, Anodea Judith - one of the country's foremost experts on the therapeutic use of the chakra system - gives access to this subtle energy matrix, opening a powerful path for healing and spiritual growth with a complete chakra wellness kit.
ARTIST / AUTHOR BIOS

Anodea Judith, Ph.D. is one of the country's foremost experts on the chakra system and its therapeutic use, and on the interpretation of the Chakra System for the Western lifestyle. She teaches across the U.S., Canada, Europe and Central America. Founder and director of Sacred Centers, Anodea is a groundbreaking thinker, writer, and spiritual teacher. Her passion for the realization of untapped human potential matches her concern for humanity's impending crises - her fervent wish is that we wake up in time.
OTHER PRODUCTS BY OR FEATURING ANODEA JUDITH PHD:
PRODUCT DETAILS
Book softcover - Audio CD combo 102 pages
ISBN: 9781591790884
Publisher: Sounds True, Edition: 2003
Catalog: P05101
Product Dimensions: 10.2 x 8 x 1.5 inches (25.9 x 20.3 x 3.8 cm)
Shipping Weight: 1.1 lbs (0.50 kg) - Shipping Options
Yoga Technology Sales Ranking (all products): 166
CUSTOMERS ALSO VIEWED: