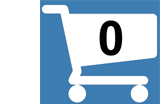 Recharge Yourself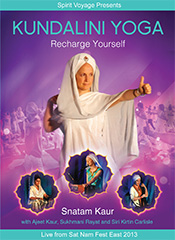 BUY NOW: ONLY $14.95
Retails for: $22.95 You save: $8.00
NEW! - SHOP eBOOKS | SHOP BOOKS| SHOP DVDs | SHOP CDs | SHOP YOGI TEA
with Ajeet Kaur, Sukhmani Rayat and Siri Kirtin Carlisle
Recharge yourself and revitalize your life. Snatam Kaur leads you through a powerful Kundalini Yoga practice which will get your energy flowing and help you live the life you have always wanted.
The class focuses on the restoration of pranic energy or life force in your body – the energy which supplies you with the power and courage to embrace your true destiny. Including powerful pranayama (breathing exercises), the invigoration of Archer Pose, and a wonderful kriya to recharge your physical and energetic self, the end result will be an empowered and rejuvenated You, in body, mind and soul!
Joining Snatam Kaur on vocals is the angelic Ajeet Kaur, tablas by Sukhmani Rayat and an accompaniment by Siri Kirtan Carlisle. You will experience in your homethe power of Kirtan and Kundalini Yoga, all in one dynamic class. The program was recorded live at Sat Nam Fest, the annual Kundalini Yoga and music festival.
ARTIST / AUTHOR BIOS

With the release of Prem, Snatam Kaur announced the beginning of her solo career and, under the wing of wizard producer Thomas Barquee, many popular CDs followed, including Pren, Grace and Anand, and her groundbreaking recording with Emmy award winning pianist Peter Kater - Heart of the Universe.
---
OTHER PRODUCTS BY OR FEATURING SNATAM KAUR:
PRODUCT DETAILS
DVD running time = 60:00
UPC: 888295053273
Director: Alessandra Dobrin Khalsa
Manufacturer: Spirit Voyage. Released: 2014
Catalog: DV05024
Product Dimensions: 7.5 x 5.4 x 0.3 inches (19.0 x 13.7 x 0.8 cm)
Shipping Weight: 0.25 lbs (0.11 kg) Shipping Options
Yoga Technology Sales Ranking (all products): 100
---
CUSTOMERS VIEWING THIS PAGE MAY ALSO BE INTERESTED IN: