| | | |
Yoga for Prosperity (eBook)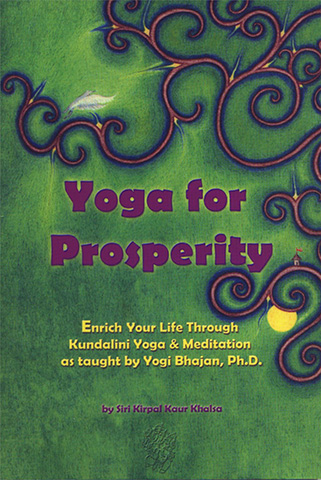 A Practical Way to increase your Wealth, Health and Happiness through Kundalini Yoga
Yoga for Prosperity by Siri Kirpal Kaur presents a practical way to increase your wealth, health and happiness through the Kundalini Yoga practice of breath, mantra, meditation, postures, affirmations and shabads.
Anyone can benefit from this book:
People who have never done yoga and people who teach yoga, people who are financially challenged and people who make millions of dollars each year.
Over 140 illustrations.
No one else can limit you. If you want to limit yourself, you can. Otherwise the entire resources of the Universe are yours to use. -
ARTIST / AUTHOR BIOS

Siri Kirpal Kaur has been a student of the teachings of Yogi Bhajan since 1983. She is an artist, a poet, and a classically trained singer, as well as a KRI certified teacher. In addition she is the founder of an interfaith organization, has spoken frequently on televised interfaith panels and taught Kundalini Yoga to convicted felons.
PRODUCT DETAILS
File Size(s) & Update(s):
EPUB - 4.879MB - 02/28/19
MOBI - 9.488MB - 02/28/19

ePublication date: 02/28/2019
Catalog: e06011
Print-length: 113 pages
ISBN: 9780965552332
Publisher: KRI; Printed Edition: 2002
Yoga Technology Sales Ranking (e-products): 19