Siri Kirpal Kaur - Kundalini Yoga Author
Products and Biography
Siri Kirpal Kaur has been a student of the teachings of Yogi Bhajan since 1983. She is an artist, a poet, and a classically trained singer, as well as a KRI certified teacher. In addition she is the founder of an interfaith organization, has spoken frequently on televised interfaith panels and taught Kundalini Yoga to convicted felons.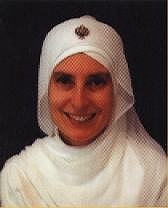 When aged 7, she received a revelation regarding her future, as she crossed the dining room one evening – that she would write illustrated books when she grew up. What to write was not, however, revealed at that time, and was to remain a mystery to her for a number of years.
Some time before she received an answer, she married in 1972, had a brief career as a folksinger, finished her BA in Art at Marylhurst College (now University) in 1982, began practicing Kundalini Yoga and Meditation in 1983, and became a Sikh in 1986.
It was the final two items in this list which served to provide the material for her with which to write her first books - Yoga for Prosperity and Sikh Spiritual Practice.
She currently lives in Eugene, Oregon, along with her husband.
PRODUCTS BY OR FEATURING SIRI KIRPAL KAUR:
Below you will find our selection of products by Siri Kirpal Kaur. Retail customers will also enjoy our FREE US Shipping.