Sat Purkh
Products and Biography
Sat Purkh Kaur Khalsa has been singing for as long as she can remember. Her journey with the sound current began many years ago and she doesn't think is has an end — instead it has become her infinite quest for the anahat, or unstruck sound.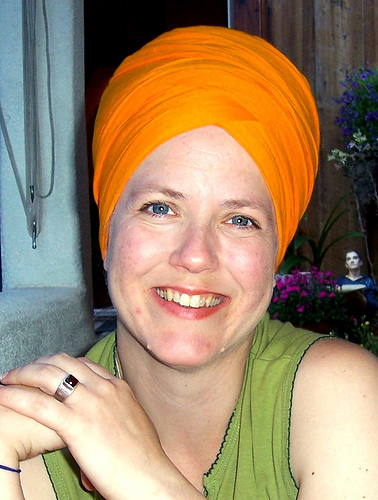 She has been a student of sound for more than 20 years, and integrates the Naad into her music, teaching, and healing practices. Sat Purkh has studied with some of the great Sound practitioners in the West: David Hykes, Shanti Shivani, and Pandit Mukesh Desai and is also strongly influenced by the Shabd Guru — the sound current in the Sikh tradition. Her music focuses on using sound to move the body, the mind and the breath toward powerful transformative experiences that uplift the individual and serve the soul.
She is a writer, editor, poet, singer and songwriter — and also claims to be a pretty good cook — and was formerly Editor and Creative Director of the Kundalini Research Institute. She has authored Everyday Grace: The Art of Being a Woman , an introduction to women's teachings of Yogi Bhajan.
She lives in Española, New Mexico with her husband, Abhai Raj, and her pets Fatty, Slim, and Vinnie.
PRODUCTS BY OR FEATURING SAT PURKH:
Below you will find our selection of products by Sat Purkh. Retail customers will also enjoy our FREE US Shipping.