Jot Singh Khalsa
Products and Biography
Jot Singh enjoys teaching around new paradigms of prosperity, the importance of being a spiritual warrior/saint soldier in today's society, and utilizing one's unique gifts to authentically fulfill one's destiny. He also enjoys facilitating and participating in men's groups. His hobbies include downhill skiing, bicycling, swimming and the martial arts.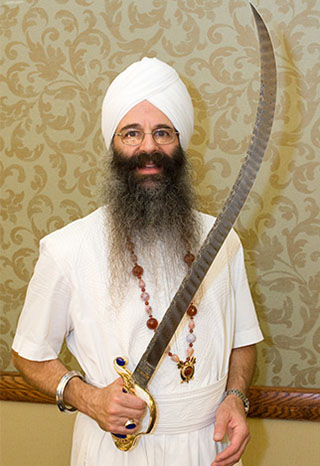 Jot Singh Khalsa grew up in Medford, MA, USA. He studied art and silver, gold and metalsmithing at the State University of New York at New Paltz for six years beginning in 1972, where he also began practicing Kundalini Yoga. Since that time he has dedicated his life to learning, through study, a steady morning sadhana practice and service to others.
Yogi Bhajan wrote him a letter ca. 1978, encouraging him to "use his artistic gifts to create things that uplift and inspire people."
Jot Singh founded Khalsa Kirpans, The Khalsa Raj Collection, and LifeKnives, businesses that do as the Master had suggested.
His work has been featured on book covers, magazine covers, in museum exhibitions and in print media published in nine languages. For 30+ years, he managed 3HO Foundation's Summer and Winter Solstice kitchens, where he learned that serving others is a privilege and can be a profound blessing.
He lives with his wife and has a small manufacturing facility on the grounds of Guru Ram Das Ashram in Millis, MA.
PRODUCTS BY OR FEATURING JOT SINGH KHALSA:
Below you will find our selection of products by Jot Singh Khalsa. Retail customers will also enjoy our FREE US Shipping.