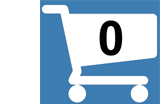 Dharma Singh Khalsa, Kundalini Yoga Teacher, Author, Researcher.
Products and Biography
Dharma Singh Khalsa, M.D. was born January 20, 1946 in Cleveland, Ohio and grew up in Miami Beach, Florida. He is the author of a number of very popular books covering a range of lifestyle and healing issues, a trained anesthesiologist, acupuncturist and leading authority on Alzheimer's Disease.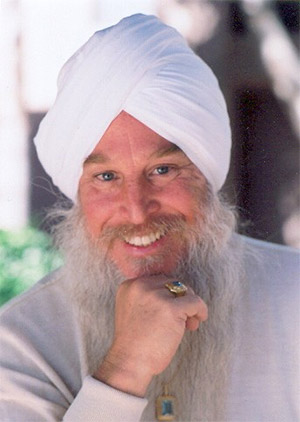 Dr. Khalsa has written a number of books covering a wide range of health and healing issues, including Meditation as Medicine – Activate the Power of Your Natural Healing Force, and Food as Medicine - How to Use Diet, Vitamins, Juices, and Herbs for a Healthier, Happier, and Longer Life.
As a child he suffered from asthma, but his uncle, a leading cardiologist, prescribed a series of breathing exercises which helped him a lot. However his lungs remained weak into early adulthood. It was only when he began the practice of Kundalini Yoga that this vulnerability disappeared.
After graduating from Creighton University School of Medicine in Omaha, Nebraska. Dr. Khalsa went on to train in Anesthesiology at the University of California, San Francisco, where he was Chief Resident. He also graduated from the University of California, Los Angeles Medical Acupuncture for Physicians Program and has studied mind/body medicine at Harvard Medical School's Mind/Body Medical Institute.
In 1978 he met Yogi Bhajan and began practicing Kundalini Yoga with him. In 1981 he became a Sikh.
Dr. Dharma Singh Khalsa established the first holistic pain program in the Southwestern United States in 1987, at Lovelace Medical Centre in Albuquerque, New Mexico. Then, in 1990, he was invited to become the founding director of the Acupuncture, Stress Medicine, and Chronic Pain Program at the University of Arizona. This made him the first director of acupuncture in an American medical school.
Since 1993, he has undertaken pioneering work in the area of lifestyle influence on Alzheimer's disease, in his post as President and Medical Director of the Alzheimer's Research and Prevention Foundation in Tucson, Arizona. He testified about this before Congress in 2003 and thereafter received strong support for his proposals from the US Surgeon General, Richard H. Carmona, MD.
Since then he has undertaken research into the benefits of regular practice of Kirtan Kriya and, at the University of Pennsylvania School of Medicine was responsible for a study into the cerebral blood flow of advanced meditators.
PRODUCTS BY OR FEATURING DHARMA SINGH KHALSA MD:
Below you will find our selection of products by Dharma Singh Khalsa MD. Retail customers will also enjoy our FREE US Shipping.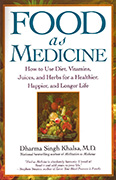 Food as Medicine
$8.98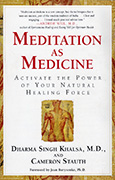 Meditation as Medicine
$14.95