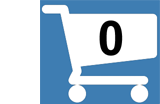 Kundalini Yoga for Balanced Chakras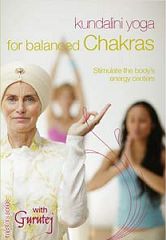 BUY NOW: ONLY $16.95
Retails for: $20.95 You save: $4.00
NEW! - SHOP eBOOKS | SHOP BOOKS| SHOP DVDs | SHOP CDs | SHOP YOGI TEA
Stimulate Your Body's Energy Centers
Kundalini Yoga for Balanced Chakras (formerly known as Chakra Yoga), by master instructor, Gurutej Kaur, explains how your chakras are in fact your body's crucial energy centers. The health of each chakra corresponds to the health of specific organs, emotions and forces within you. Practiced daily, this powerful workout from the Kundalini Yoga teachings of Yogi Bhajan will strengthen each chakra by increasing the flow of Kundalini energy through it, and into your entire biomagnetic field, from the base of your spine.
Western medicine has finally begun to investigate how the body's energy fields regulate health. But how do you begin to work with those energies now? With Gurutej and Kundalini Yoga for Balanced Chakras you have a complete daily program for the awakening of primal energy sources, to unleash from within your life-giving force.
This DVD contains sixteen asanas, a complete cycle of dynamic moving exercises and sacred chants, to release blockages in each of your body's energy centers.
You will discover:
Sixteen exercises to unblock your seven chakras
A special sequence to move vital energy through every cell in your body
How to balance and center your mind, body, and spirit for the entire day
Practices to enhance your intuition, communication, and creativity
Heart chakra openers to increase joy and intimacy in your relationships
Gurumukhi, powerful seed sounds to magnify your practice
A visualizing practice anyone can learn.
ARTIST / AUTHOR BIOS

For over 40 years, Gurutej Kaur has been teaching people in the US, Canada and Europe how to connect to their higher consciousness through Kundalini Yoga, chanting, meditation and healing. She specializes in pre and postnatal yoga, and yoga for women and children. In 1998, along with Gurmukh, she founded the Golden Bridge Yoga Center in Los Angeles. Every day she lives the meaning of her Sikh name, which translates as "the one who brings you from darkness into light."
---
OTHER PRODUCTS BY OR FEATURING GURUTEJ KAUR: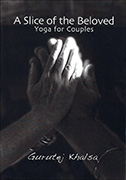 A Slice of the Beloved
$12.95
PRODUCT DETAILS
DVD running time = 72:00
UPC: 801898008228
Manufacturer: Spirit Voyage Music. Released: 2006
Catalog: DV05001
Product Dimensions: 7.5 x 5.4 x 0.6 inches (19.0 x 13.7 x 1.5 cm)
Shipping Weight: 0.25 lbs (0.11 kg) Shipping Options
Yoga Technology Sales Ranking (all products): 174
---
CUSTOMERS VIEWING THIS PAGE MAY ALSO BE INTERESTED IN: