Siri Ved Kaur
Products and Biography
One of Yogi Bhajan's earliest students, Siri Ved served as his personal cook in the 1970's. It was in his kitchen that her natural aptitude for preparing healing foods was nurtured and first blossomed. She learned by his side in the kitchen and at his feet as a student, discovering the secrets of the creation of amazing food with a unique yogic flair.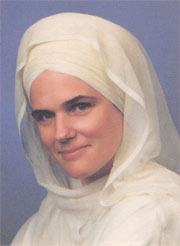 She has shared her knowledge through teaching workshops and cooking classes. She has authored cooking columns, and also two books - Conscious Cookery (1979) and From Vegetables with Love (1989), new and greatly expanded edition published in 2016.
Music and chanting have also been a vital part of Siri Ved Kaur's spiritual journey. Over the years she has grown into a powerful kirtanee, whose voice and energetic music are known to uplift the spirit through the chanting of God's Name and Gurbani Kirtan (spirited devotional hymns of the Sikhs).
Siri Ved now lives in Central California, and continues to share her ideas and knowledge through her blog - Conscious Cookery 101.
PRODUCTS BY OR FEATURING SIRI VED KAUR:
Below you will find our selection of products by Siri Ved Kaur. Retail customers will also enjoy our FREE US Shipping.