Damien Rose - Tibetan Bowls
Products and Biography
Damien Rose, the artist behind Liquid Bells: Tibetan Bowls, has been described as a truly "heart-aligned musician. He came to his calling as a master of the Tibetan bowls through a chance acquaintance too amazing to be mere coincidence: He had picked up a hitchhiker who just happened to be one of the artists on a Tibetan bowl mix playing on his car stereo.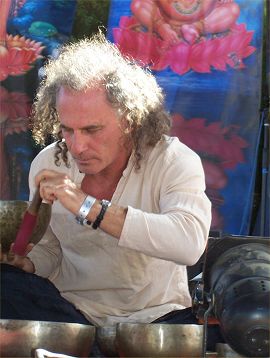 Intrigued by Rose's interest, the hitchhiker invited him to his home to see a whole living room full of his unique bowls and setups. Damien experienced an instant and deep spiritual awakening and since that time has never looked back.
Damien Rose had studied piano as a child, and guitar and songwriting as a teen, but he had decided on a law career and had passed his bar exam prior to his "chance" encounter.
Ever since that day Damien, has devoted himself to the exploration of the powerful healing properties of these magnificent, conscious-raising sounds. He has been invited to perform at numerous yoga conferences and festivals, chakra healing and meditative workshops, and has also been asked to provide the soundtrack for many recordings.
His music forms part of the soundtrack for many of the Guru Rattana Online streaming video series. a series based on the Kundalini Yoga of Yogi Bhajan.