Kundalini Yoga Benefits
Kundalini Yoga is one of the most ancient and fast acting of all yogic technologies – its origins are lost in the mists of time. For thousands of years, details of its practices were a closely guarded secret, handed down from master to initiate, and all the while being carefully honed and refined. Yogi Bhajan brought this "Yoga of Awareness" to the West in 1969. He believed strongly that everyone should have the opportunity to learn, to participate and to enjoy its incredible benefits.
"Sometimes after a single 3-minute Kundalini Yoga exercise I feel more energized and more purified than I do after a 90-minute Hatha class!" -
Kundalini Yoga is a dynamic blend of physical postures, breathing, movement, stretching, meditation, mantra and relaxation, the combination of which activates the glandular system, strengthens the nervous system, expands the lung capacity, and purifies the bloodstream. Both safe and effective, it brings balance to the body, mind and soul, and can be practiced by almost anyone, regardless of age, fitness, occupation and experience. It is on-the-job training for success and excellence in life. It builds inner strength and self awareness so you can fulfill your highest potential. It is not a religion, but it provides an inner foundation for a spiritual life, no matter which religion, if any, you choose to practice.
Try this simple exercise: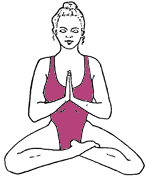 This is a great quick pickup when you have only a few minutes. If you do it 2 or 3 times a day at strategic times (before meals, meetings, driving home, etc.) and when you begin to feel tired, you will notice a big difference in the way you feel.
"Where there is mystery there is no mastery, and where there is mastery there is no mystery. The only miracle is that by God's grace you put your ego aside and let God have a chance. Then there is no limit to your intuition, intelligence, and healing presence" –
Regular Kundalini Yoga practice will help you to:
feel happier, healthier, be more productive, more creative, and more relaxed!
transform your life and relationships, and feel more fulfilled and satisfied!
boost your energy levels and enjoy greater levels of physical well-being!
become more intuitive and able to attract new opportunities!
embark on an exciting new journey of self-discovery!
I did not know what to expect from doing KY but knew from the very first time that I did it, that it had the power to completely change my life. My very first experience of KY was amazing - it felt as if each and every cell in my body was vibrating and alive, as if for the very first time in my life!!! -
Each set (or kriya) of Kundalini Yoga exercises is designed to both uplift and to target specific issues, allowing the student to focus on exactly those aspects of their physical, mental and emotional state which may need attention, alignment and rejuvenation.
Practicing Kundalini Yoga can be a life-changing experience. Once you try it you will love how you feel and probably desire a regular practice. You can practice it at home by signing up for Guru Rattana Online – our ground-breaking streaming video subscription service, and also supplement your studies using the wide range of Kundalini Yoga Books, Kundalini Yoga DVDs & Meditation Music readily available at very competitive prices from our online superstore.