New ! ! ! - KUNDALINI YOGA ONLINE Streaming Videos
WORLD CLASS Teaching available at your convenience - 24/7
ECONOMIC - choice of LOW Monthly or Annual Subscription
UNLIMITED Viewing of Classes
ANCIENT Practice - Modern Delivery
PROFESSIONALLY Produced and Edited
FULL Screen Quality
STATE-OF-THE-ART Flash Streaming Video Technology
When you subscribe to Guru Rattana Online, you are taking the first steps towards a life-changing experience. Each artfully designed and thoughtfully presented class offers you an opportunity to expand your consciousness, align your body, elevate your mind and balance your emotions.
Jump in! You will be surprised by how easy it is to begin your practice, and delight in your newly-discovered experience of well-being. Guru Rattana explains it all. Simply follow her guidance and commence your own exciting journey to awareness.
For a limited time only! - Guru Rattana Kundalini Yoga Online FREE preview!
View up to 10 Guru Rattana Kundalini Yoga Online lesson sections over your initial 1 day trial period prior to making your first subscription payment. Cancel your subscription with PayPal on this first day and you will owe absolutely nothing.

GURU RATTANA - Ground Breaking Teacher!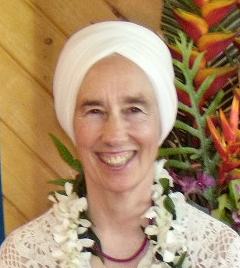 Through extensive travel, education, teaching and her own inner journey, Guru Rattana has consciously prepared for this moment in history. Since the age of twenty-six she has followed a committed spiritual path. She studied Hatha yoga for 8 years, trained with Yogi Bhajan from 1977, and has also studied tai chi, kung fu and chi gong.
Following receipt of her Doctorate (Political Science - University of Geneva) she pursued an academic career at Dartmouth College, MIT, and New Hampshire College, moving in 1985 to the U.S. International University in San Diego.
A ground-breaking author, teacher and teacher of teachers, she has given hundreds of workshops and classes on personal empowerment, featuring Kundalini Yoga and Meditation. Her unique presentation incorporates her writings, a profound understanding of spiritual principles and human growth, and the transmutation of emotional energy into higher awareness. Each class is a milestone in consciousness.
Guru Rattana Kundalini Yoga Online is a further manifestation of her commitment to pass on the essence of these amazing teachingsto a waiting world.
Guru Rattana believes higher consciousness is a requirement to find solutions to all world problems. As we change our consciousness and become personally empowered, we transform the world. Her life is devoted to helping people move beyond hope and belief to an experience of the ecstasy of Self and the Divine in all life and to make their unique contribution to the world.
GURU RATTANA is the first of Yogi Bhajan's students to have successfully introduced Kundalini Yoga Online. Over the past ten years she has established a commanding online presence and now enjoys a large and enthusiastic world-wide following.
Her popular websites -- Yoga Technology and Kundalini Yoga -- attract an endless stream of visitors. Thousands are subscribed to her Kundalini Yoga Yahoo discussion group, to her New Millennium Being newsletter and to her free Kundalini Yoga Online Training Course - now completed by over 250,000 satisfied students.
Guru Rattana's teachings are unique and compelling. Everyone has been asking for more - not just words, but sound and video too.
Well, the wait is over. Now, thanks to the Internet and streaming video technology you can benefit direct in your own home from the wisdom and remarkable teaching methods of Guru Rattana. Join her and her San Diego students at your own convenience. Become her latest Kundalini Yoga Online student for as little as $6* per month. (Free 1 day trial)

Guru Rattana offers a new kind of learning on the web. Her videos invite us into the region of the heart, from where we can safely explore uncharted territory. These on-line classes teach us the many paths of archetypical wisdom from her own rich knowledge in two powerful traditions; first from the astrological and intellectual basis and then from the Kundalini Yoga, or experiential way.

No matter which universal lesson we choose to watch, her methods are very balancing and the positive energy of the class comes through in the video to personalize this harmony.
The Inner Art of Awareness
Guru Rattana's methodology - The Inner Art of Awareness - a simple and highly effective awakening process - makes a unique contribution to the ancient teachings of Kundalini Yoga and Meditation of Yogi Bhajan. Her Kundalini Yoga Online classes are designed for students of all ages, levels and experience. They serve to simultaneously instruct and uplift all who participate.
Every lesson is packed full of wisdom and delightfully enhanced by Guru Rattana's warm heart, sense of humor, and vast experience.
Average class time is around 100 minutes. Each one is split into several sections making it easy to go back to the parts that you wish to experience again.
I am learning to be aware of my thoughts. I am learning to control them.
I am learning to be aware of my body - the home of my soul - and sincerely value and appreciate it.
I am learning to be in touch with my emotions. I am learning to understand and embrace them. I am learning to be delighted.
I am learning to be in touch with the essence of who I am - with my spirit - and help it shine! I love my vigorous, playful, and curious Sagittarius.
I am learning to live in the present - and enjoy it. This brings meaning to my life - something that I have been after for a long time but could never get a grasp of.
Most importantly, I am becoming a better person. I am learning to value and love LIFE - the science and the art of the Universe - in myself and in everyone else. The peace and happiness that I can now feel extend to people I meet every day. It makes me happy to see them happy.
Guru Rattana, I can never thank you enough for the difference your teachings have made to my life.
Each self-contained Kundalini Yoga Online themed class includes:
Introductory talk by Guru Rattana covering a particular sign of the zodiac. She clearly explains its specific lessons, attributes and challenges, and the different ways in which its energy impacts everyone, regardless of their situation in life or their own particular Sun sign.
Tune In & warm up exercises.
Kriya or Set of Kundalini Yoga exercises.
Meditation - Kundalini Yoga style.
Deep relaxation followed by closing songs and blessing.
The range and scope of our courses will continue to grow. Be among the first to benefit from them.

NOTES
Our Kundalini Yoga Online Flash videos will play on any Windows, Mac or Linux system, but you must be enabled for JavaScript and have an up-to-date Flash video plug-in. Our videos do not currently work with iPhones or iPads. If you don't currently have a PayPal account, then you can sign up for one during the subscription process. You can also pay via credit card.
PayPal Monthly Subscription $7.95
Annual Subscription $71.95 - save 25%
You can pay via credit card for 6 months ($41.95) and 12 months ($76.95).
TOP