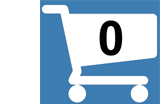 Relaxation Meditations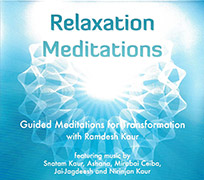 BUY NOW: ONLY $10.95
Retails for: $18.00 You save: $7.05
NEW! - SHOP eBOOKS | SHOP BOOKS| SHOP DVDs | SHOP CDs | SHOP YOGI TEA
Guided Meditations for Transformation
In this edition of Guided Meditations with Ramdesh Kaur, you can experience deep relaxation under the gentle embrace of Ramdesh's voice subtly interfaced with ancient mantras, angelic voices, and crystal singing bowls! Each meditation centers on a theme, whether it be finding your life purpose or manifesting abundance. Be relaxed and uplifted on your journey through life! The album also features the music of Snatam Kaur, Mirabai Ceiba, Ashana, Nirinjan Kaur and Jai-Jagdeesh.
Please note:
Music clips are for our promotional use only and should not be saved on your computer. They are meant to promote the artists and their recordings, and individual copyrights apply. If you enjoy the music please purchase the CD.
Ramdesh was exposed to meditation from an early age. Under the able tutelage of her mother and guru, a New Thought minister, she explored guided meditations, and as she grew older she dove deeply into the teachings of Yogi Bhajan. She realized that she wanted very much to combine the mantra which moves her heart with the guided meditations which have been her spiritual foundation for so long.
Apart from her mother and Yogi Bhajan, there have been many other influences on Ramdesh Kaur's spiritual development – the 10 Sikh Gurus, Ernest Holmes, founder of the Science of Mind, and a whole cluster of modern thinkers. Finally, the musicians on this album have all inspired her – she feels she can reach out and touch God while Snatam Kaur sings, and Ashana, Nirinjan, Jai-Jagdeesh and Mirabai are close friends.
Her favorite meditation on the album is the Guided Meditation for Forgiveness. It was a very special experience to record. She had her meditation all prepared and knew exactly what she needed to say, but when she was in the recording booth everything fell away, and her best friend's spirit (he killed himself two years ago) appeared before her, and all the grief and anger and pain she felt towards him bubbled up and he literally showed her what to say to him. Tears were pouring down her face, it was such a real and powerful moment. She recalls that this meditation is what it took for her to really forgive someone who was very close to her heart. She hopes it allows others to do the same.
MEDITATIONS
Guided Meditation for Connecting with Your Angels feat. Ashana's "Hymn".
Use this meditation to bring angelic assistance to you for help in overcoming obstacles.
Guided Meditation for Dissolving Negativity feat. Nirinjan Kaur's "Bhaja Man Mere".
Use this meditation to change negative patterns in your thinking.
Guided Meditation for Finding Your Life Purpose feat. Snatam Kaur's "Suniai Listening Meditation".
Use this meditation when you want clarity in your direction and path.
Guided Meditation for Forgiveness feat. Ashana's "Embrace".
Use this meditation to help you deeply forgive.
Guided Meditation for Abundance feat. Jai-Jagdeesh's "Aap Sahaaee Hoa".
Use this meditation to bring prosperity and abundance to you.
Guided Meditation for Sleep feat. Mirabai Ceiba's Savasana.
Use this meditation to help you get a good night's sleep.
Guided Meditation for Positive Affirmation - Reprise feat. Ashana's "Hymn".
Use this meditation to shift your energy quickly.
ARTIST / AUTHOR BIOS
Ramdesh Kaur, writer, broadcaster, world traveler, and teacher of Kundalini Yoga in places as varied as the foothills of the Himalayas and the suburbs of New Jersey, has authored a book "Yoga and Mantras for a Whole Heart" and produced several best-selling meditation CDs.
---
OTHER PRODUCTS BY OR FEATURING RAMDESH KAUR:
PRODUCT DETAILS
Audio CD running time = 52:55
UPC: 884501928724
Producer: Krishan
Manufacturer: Spirit Voyage Records. Released: 2013
Catalog: CD05342
Product Dimensions: 5.5 x 5 x 0.4 inches (14.0 x 12.7 x 1.0 cm)
Shipping Weight: 0.25 lbs (0.11 kg) Shipping Options
Yoga Technology Sales Ranking (all products): 52
---
CUSTOMERS VIEWING THIS PAGE MAY ALSO BE INTERESTED IN: