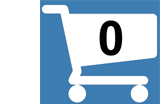 Wisdom and Bliss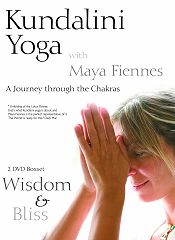 BUY NOW: ONLY $19.95
Retails for: $26.95 You save: $7.00
NEW! - SHOP eBOOKS | SHOP BOOKS| SHOP DVDs | SHOP CDs | SHOP YOGI TEA
A Journey through the Chakras Series - 2 DVD Boxed Set
In Wisdom and Bliss, Maya Fiennes completes her Journey through the Chakras. With this 2 DVD boxed set, Maya will introduce you to specially tailored Kundalini Yoga practices for Chakra 6 (Third Eye) - intuition and Chakra 7 (Crown) – sense of identity, connection to the divine soul, and provide you with friendly and detailed guidance in order to maximize the benefits. More than an exercise workout, these DVDs offer a body-mind connection, leaving you with a feeling of peace and tranquility on completion. These are the sixth and seventh DVDs in Maya's 7 DVD set - A Journey Through the Chakras.
Chakras are your energy centers which absorb life force or prana from the Universe. They are distributed through your body's energy channels, or nadis, to the nervous system, endocrinal glands and circulation system. By opening and balancing your chakras, you can connect to a much larger source of energy, that from which we came and to which we will return. The first five chakras are associated with the elements (or tatvas) of earth, fire, water, air and ether. The upper chakras correspond to the subtle realm.
Maya Fiennes is a wonderful teacher. Her DVDs are uplifting and enchanting, and from them you will obtain an excellent Kundalini Yoga experience, both at the physical and spiritual levels. She incorporates mudras, mantras, and meditations and each step is clearly explained. The exercises are good for students at all levels, and you will really enjoy her music.
This DVD set was preceded by Maya's 3 DVD set of Courage, Creativity and Willpower and her 2 DVD set of Love and Truth, all available from Yoga Technology.
ARTIST / AUTHOR BIOS
Maya Fiennes has combined her talents as a successful classical pianist and performer with her upbeat personality to create her own unique style of yoga and meditation for modern living, based on the teachings of Yogi Bhajan, and a style now very much in demand from an enthusiastic world-wide audience.
---
OTHER PRODUCTS BY OR FEATURING MAYA FIENNES:
PRODUCT DETAILS
DVD - set of 2 running time = 109:00
UPC: 5060125690161
Manufacturer: Body in Balance. Released: 2008
Catalog: DV08413
Product Dimensions: 7.5 x 5.4 x 0.6 inches (19.0 x 13.7 x 1.5 cm)
Shipping Weight: 0.25 lbs (0.11 kg) Shipping Options
Yoga Technology Sales Ranking (all products): 149
---
CUSTOMERS WHO BOUGHT THIS ITEM ALSO BOUGHT: