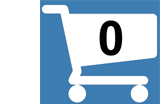 Mood Mantras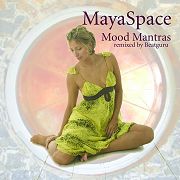 TODAY: ONLY $10.95
Retails for: $16.95 You save: $6.00 (35%)
NEW! - SHOP eBOOKS | SHOP BOOKS| SHOP DVDs | SHOP CDs | SHOP YOGI TEA
Remixed by Beatguru
In Mood Mantras, Maya Fiennes, renowned singer, pianist and yoga guru, combines her beautiful and ethereal musical energies with powerful Kundalini mantras and cool chill-out grooves to create a distinct blend of mood music perfect for either yoga practice/physical exercise, or sophisticated relaxation. With elements of World music, urban beats and her classical heritage in evidence throughout, this is the best of eclectic.
Please note:
Music clips are for our promotional use only and should not be saved on your computer. They are meant to promote the artists and their recordings, and individual copyrights apply. If you enjoy the music please purchase the CD.
ARTIST / AUTHOR BIOS
Maya Fiennes has combined her talents as a successful classical pianist and performer with her upbeat personality to create her own unique style of yoga and meditation for modern living, based on the teachings of Yogi Bhajan, and a style now very much in demand from an enthusiastic world-wide audience.
---
OTHER PRODUCTS BY OR FEATURING MAYA FIENNES: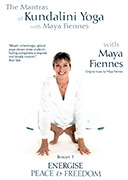 Energise Peace and Freedom
$19.95
PRODUCT DETAILS
Audio CD running time = 54:36
UPC: 5060051619045
Manufacturer: Mayaspace Ltd. Released: 2008
Catalog: CD08402
Product Dimensions: 5.5 x 5 x 0.4 inches (14.0 x 12.7 x 1.0 cm)
Shipping Weight: 0.25 lbs (0.11 kg) Shipping Options
Yoga Technology Sales Ranking (all products): 123
---
CUSTOMERS WHO VIEWED THIS ITEM ALSO BOUGHT: