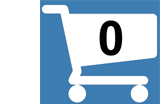 Energise Peace and Freedom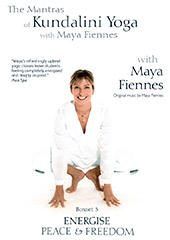 BUY NOW: ONLY $19.95
Retails for: $29.95 You save: $10.00 (33%)
NEW! - SHOP eBOOKS | SHOP BOOKS| SHOP DVDs | SHOP CDs | SHOP YOGI TEA
The Mantras of Kundalini Yoga - 2 Disk Set
Energise Peace and Freedom by Maya Fiennes, disks 6 and 7 of her 7 disk series The Mantras of Kundalini Yoga, is designed to help you develop a neutral mind and expand your powers of intuition. Regular practice will allow you to say "Goodbye self destruction - Hello radiance!" These two Kundalini Yoga sets will give you the insight and ability to relax and enjoy the flow of a greatly expanded energy, inner peace and sense of freedom. Energise (energize) uses the famous Sat Kriya to raise your energy, and Peace and Freedom uses Wahe Guru Wahe Jio to ease phobias, fears and neuroses and remove unsettling thoughts from the past.
Mantras are the yoga of the mind, and the ones used in these DVDs come from the Kundalini Yoga teachings of Yogi Bhajan.
A mantra is a syllable, word or phrase which can elevate or modify consciousness through its meaning, its sound, rhythm, tone or even the reflexology of the tongue on the palate. Repetition of a mantra can help bring your entire body to a higher frequency which resonates with the frequency of the Universe. It can clear your mind from negative thoughts and promote the natural healing properties of the body.
Each mantra creates its own rhythm of breathing, which in turn expresses certain moods and emotions which will improve your mental state. Mantras can enable you to hear and see things beyond the physical world, remember dreams and silence the mind. Their power can also be enhanced by firstly seeing the mantra as you say it, and secondly by actively listening to it as you say it.
The practice of mantras can change your experience of life, filling each day with enthusiasm and creative energy. A mantra can make the impossible possible.
ARTIST / AUTHOR BIOS
Maya Fiennes has combined her talents as a successful classical pianist and performer with her upbeat personality to create her own unique style of yoga and meditation for modern living, based on the teachings of Yogi Bhajan, and a style now very much in demand from an enthusiastic world-wide audience.
---
OTHER PRODUCTS BY OR FEATURING MAYA FIENNES:

Mood Mantras
$10.95
PRODUCT DETAILS
DVD running time = 120:00
UPC: 5060125695104
Manufacturer: Body in Balance. Released: 2014
Catalog: DV08433
Product Dimensions: 7.5 x 5.4 x 0.6 inches (19.0 x 13.7 x 1.5 cm)
Shipping Weight: 0.25 lbs (0.11 kg) Shipping Options
Yoga Technology Sales Ranking (all products): 66
---
CUSTOMERS WHO VIEWED THIS ITEM ALSO BOUGHT: