| | | |
The Inner Art of Love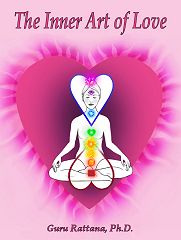 Awaken Your Heart with Kundalini Yoga
The Inner Art of Love by Guru Rattana, Ph.D., answers both basic and profound questions on the navigation of your spiritual journey. You will benefit from her wisdom (from almost forty years of personal practice and teaching) on HOW to use the sacred technology of Kundalini Yoga and Meditation:
to connect with your inner reality,
to awaken your heart and
to become a conscious soul-directed human being.
ARTIST / AUTHOR BIOS

Guru Rattana, Ph.D., author, teacher and teacher of teachers, has been a student and teacher of Kundalini Yoga and Meditation for over 40 years. She literally lives and loves Kundalini Yoga, and has devoted a large part of her life to teaching and writing books about this amazing technology.
OTHER PRODUCTS BY OR FEATURING GURU RATTANA PHD:
PRODUCT DETAILS
Manual (comb binding) 264 pages
ISBN: 9781888029079
Publisher: Yoga Technology Press, Edition: 2011
Catalog: P01102
Product Dimensions: 11 x 8.5 x 0.6 inches (27.9 x 21.6 x 1.5 cm)
Shipping Weight: 1.55 lbs (0.70 kg) - Shipping Options
Yoga Technology Sales Ranking (all products): 150
CUSTOMERS ALSO VIEWED: