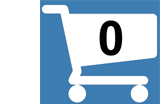 The Awakening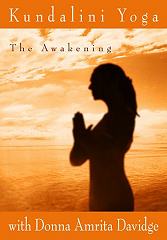 BUY NOW: ONLY $16.95
Retails for: $20.95 You save: $4.00
NEW! - SHOP eBOOKS | SHOP BOOKS| SHOP DVDs | SHOP CDs | SHOP YOGI TEA
The Union of Mind, Body & Breath
The Awakening by Donna Amrita Davidge, focuses on the breath, physical poses for flexibility, strength and endurance, and uses the healing effect of sound through mantra and music to awaken the ten bodies.
While not as gymnastic as some forms of yoga, this Kundalini Yoga set can be used by people of all ages, by following the clear instructions given for a physical, mental, and breathing workout.
Since Donna-Amrita produced her first video, Strength and Serenity in 1990, the popularity of yoga has exploded. Her second video, The Challenge (1997), was chosen in 2000 by Yoga Journal as the only Kundalini Yoga video in their Top Ten Choices.
This sequel has a special section for learning the breath techniques properly, additional poses to enhance your practice, and suggested modifications where needed.
ARTIST / AUTHOR BIOS
Donna (Amrita) Davidge has a strong commitment to the Kundalini Yoga of Yogi Bhajan, which she has been teaching since 1985. Her DVDs, acclaimed by Yoga Journal, serve as a vehicle for sharing her techniques and lifestyle with others, so that they too can discover more happiness and satisfaction in their life experience.
---
OTHER PRODUCTS BY OR FEATURING DONNA AMRITA DAVIDGE: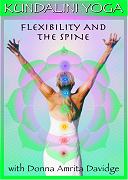 Flexibility and the Spine
$16.95
PRODUCT DETAILS
DVD running time = 68:00
UPC: 825346689197
Director: Christian Dinh
Manufacturer: Sewell House. Released: 2004
Catalog: DV08001
Product Dimensions: 7.5 x 5.4 x 0.6 inches (19.0 x 13.7 x 1.5 cm)
Shipping Weight: 0.25 lbs (0.11 kg) Shipping Options
Yoga Technology Sales Ranking (all products): 140
---
CUSTOMERS VIEWING THIS PAGE MAY ALSO BE INTERESTED IN: