Maya Fiennes Collection
Macedonian born Maya Fiennes has combined her talents as a successful classical pianist and performer with her upbeat personality to create a unique style of Kundalini Yoga and Meditation for modern living, based on the teachings of Yogi Bhajan.
She regularly broadcasts classes on Fit TV in the US & Canada as well as on the Body in Balance satellite channel throughout Western Europe.
Buy your Maya Fiennes DVDs, Books & CDs direct from Yoga Technology!
DVD Boxed Sets
The Maya Fiennes Collection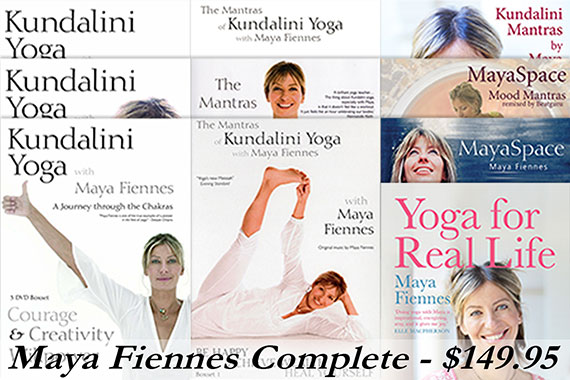 We have assembled this collection as the perfect introduction to this exceptional yogini, bringing you 6.5 hours of DVD Classes plus over 3 hours of Mantra Music to suit your every mood.
Save over $32!
when you purchase the Complete Maya Fiennes Collection
for only $99.95
Includes 7 DVD Chakras Set + 3 inspirational Mantra CDs
That's not all . . !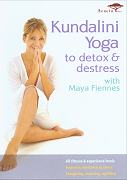 For a limited time only,
order this fabulous Maya Fiennes Collection
and we will throw in a
FREE copy of Maya's DVD:
Detox and Destress
Worth $18.00
Total Savings over $50.00 !!!

A Journey through the Chakras
Includes a free bonus copy of
Detox and Destress

- valued at $18.00
Complete Range of Maya Fiennes Products
<
>

Maya Fiennes has released a total of 8 DVDs, "Detox and De-stress" and 7-part series "A Journey Through the Chakras"; and three CDs, "Kundalini Mantras", "Mayaspace", and "Mood Mantras". Maya also appears weekly on Fit TV in the US as well as daily on the Body in Balance network in the U.K. and Europe.

Maya came to England in the early 1990's to complete her training as a classical pianist and was soon playing to audiences as diverse as The United Nations Assembly and members of the Royal Family at private recitals with her dazzling virtuosity. In 1995, she released her debut album 'Cross of Silence' to critical acclaim, described by Q- Magazine as 'The point where ambient, dance, world and classical music all meet, at the crossroads of quiet dignity and power'.

In 2006 Maya's released another CD, Mayaspace, which is a fusion of Yoga mantras and music of chilling beauty. It features guest spots from friends and peers such as Deepak Chopra. In January this year MoodMantras was launched which is a remix by Beatguru of the more traditional Kundalini Mantras.

Having practiced all kinds of yoga for years, Maya decided in 2003/04 Maya to train to be a Kundalini Teacher. She learned under Shiv Charan Singh at the Karam Kriya School in London. The name given to Maya at the naming ceremony is Har Bhajan, which means praise the name of God, Divinity & Infinity, through Sound and Mantra. Maya therefore feels destined to teach Kundalini with the help of her musical background. Maya uses her original music in her classes, which she also performs live in concert.

In the last couple of years Maya has grown her yoga activities across various mediums and her first dvd was launched in 2007. A TV production of Maya and the 7 Chakras through Kundalini Yoga was completed last year followed by its launch on the Sky platform, via Body in Balance (Bib) last June. In August 2008 the first dvd box set of a A Journey Through the Chakras - Courage, Creativity & Willpower was released. This was soon followed by the Love & Truth dvds of the same series and more recently the final box set Wisdom & Bliss has been released.