Kundalini Yoga San Diego
Classes and Workshops with Guru Rattana, Ph.D.
San Diego, CA - Wednesdays: 7:00 - 8:45 pm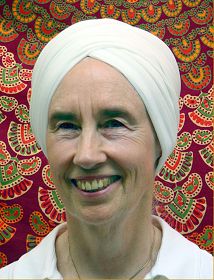 Kundalini Yoga and Meditation for Health, Happiness and Well-being.
Kundalini yoga is a powerful technology for expanding your consciousness, balancing your emotions, strengthening your nervous system, activating your glandular system and unleashing bountiful energy.
The goal of Guru Rattana's weekly classes in San Diego is to help you tap new levels of self-awareness, strengthen your capacity to deal with life's challenges and to experience deeper meaning and joy in your life.
You will learn how to meditate, activate your chakras and feel an aliveness and peace that you have never experienced before.
A special inner empowerment lesson each week! Beginners welcome.
Polish American Club, 1934 30th St., San Diego 92102
(corner of Grape & 30th)
Please bring a cushion or pillow for meditation and a natural fiber towel or cloth for a mat. The room has a wooden floor.
The cost is $15 per class or $50 for 4 classes. Sliding scale is available.
Bring a new student and pay only $8 that class.
Contact Guru Rattana