The Inner Art of Kundalini Yoga
San Diego Classes and Workshops with Guru Rattana, Ph.D.
San Diego, CA - Wednesdays: 7:00 - 8:30 pm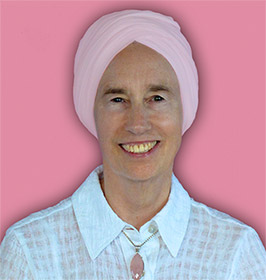 Kundalini Yoga and Meditation for Health, Happiness and Well-being.
Guru Rattana's Wednesday night classes are devoted to experiencing the inner dynamics of how we live, interact and manifest. You will learn how to shift your inner reality to build a projection and presence that supports the outer reality that you wish to create.
Each class uses the technology of Kundalini Yoga and Meditation to explore and refine the workings of our mind and emotions, our chakras, and our ten subtle bodies. Guru Rattana's insightful directives help students focus their attention and energy to achieve inner peace and happiness.
The wisdom shared by Guru Rattana has been gained from 38 years of daily Kundalini Yoga practice. Everyone is welcome.
Location: KARMA YOGA, 1901 4th Ave, Suite 200, San Diego 92101
(corner of Fir in Bankers Hill near the Sharp Clinic)
Mats and blankets are available, but feel free to bring along your own.
The room has a wooden floor.
First class is free. Click here for full pricing information.
Workshop - Inner Peace is Possible - Sunday 22nd February, 2015
We are moving into more subtle experiences of our identity,
and how to use our energy to create our reality.
In this special workshop you will develop within yourself the basic faculties that make it possible to experience inner peace.
Guru Rattana shares from her personal experience how to integrate awareness of inner peace into your Kundalini Yoga and Meditation practice.
Sunday, February 22nd, 2015 - 12 noon - 4:30 pm
Pre-registration $40 or pay at door $50.
For more information click here
Contact Guru Rattana