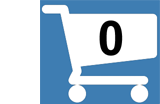 1000 Years and Beyond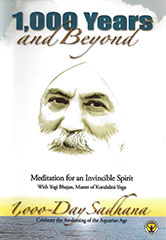 BUY NOW: ONLY $14.95
Retails for: $20.95 You save: $6.00
NEW! - SHOP eBOOKS | SHOP BOOKS| SHOP DVDs | SHOP CDs | SHOP YOGI TEA
Meditation for an Invincible Spirit
On February 5, 1992, and to celebrate the awakening of the Aquarian Age, Yogi Bhajan taught a Meditation for an Invincible Spirit, designed to call on our inner virtues, enabling teachers, healers and leaders to act at all times with integrity and clarity, and to withstand the pressure of the times.
The ensuing 1000 day meditation, between February 14, 2009 and November 10, 2011 was for worldwide participation, to add to the global psyche, projection and prayer, so that all could enter the Aquarian Age joyfully – awake and aware.
This meditation is just as relevant today as it was then. The DVD includes:
11 minute practice
31 minute practice
Introduction to the meditation by Yogi Bhajan
Lecture by Yogi Bhajan
ARTIST / AUTHOR BIOS

Yogi Bhajan was the trail-blazing visionary who introduced the world to the amazing, but hitherto secret, teachings of Kundalini Yoga and, for the very first time, revealed its incredible life-transforming potential.
---
OTHER PRODUCTS BY OR FEATURING YOGI BHAJAN:
PRODUCT DETAILS
DVD running time = 88:00
UPC: 9781934532133
Manufacturer: KRI. Released: 2009
Catalog: DV07021
Product Dimensions: 7.5 x 5.4 x 0.6 inches (19.0 x 13.7 x 1.5 cm)
Shipping Weight: 0.25 lbs (0.11 kg) Shipping Options
Yoga Technology Sales Ranking (all products): 159
---
CUSTOMERS VIEWING THIS PAGE MAY ALSO BE INTERESTED IN: