Release and Overcome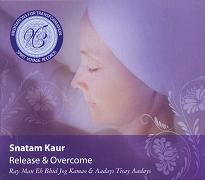 TODAY: ONLY $9.95
Retails for: $16.00 You save: $6.05
SHOP BOOKS | SHOP DVDs | SHOP CDs | SHOP YOGI TEA
Kundalini Yoga Mantras for Transformation
Release and Overcome from Snatam Kaur contains two full-length mantras, each with illustrated instructions on how to perform the appropriate meditation. Create a sacred space in your home where you can practice on a daily basis.

Ray Man Eh Bhid Jog Kamao - Transform challenges into stepping stones.
Aadays Tisai Aadays - Release fear.
Please note:
Music clips are for our promotional use only and should not be saved on your computer. They are meant to promote the artists and their recordings, and individual copyrights apply. If you enjoy the music please purchase the CD.
According to Yogi Bhajan, in 40 days you will break a bad habit, in 90 days you will create a new positive habit, and by 1000 days you will experience mastery.
Track 1: Ray Man Eh Bhid Jog Kamao
This Shabad gives you golden radiance in your tenth body, through the vibration and mastery of Guru Gobind Singh, the tenth Guru of the Sikhs. As Guru Gobind Singh describes to us in the Shabad, the journey to our own radiance starts within the mind.
Track 2: Aadays Tisai Aadays
This meditation rids you of fears and split personalities. It can be quite challenging to do it. If you feel pain in your arms, keep up. There is a point when you go beyond the physical pain, and merge into union with the Creator. It is the most victorious feeling, and will carry you into an inner state of bliss.
Meditations for Transformation, the new series by Snatam Kaur is a beautiful offering to the yoga community. Within the packaging is a detailed description of the mudra to use in practicing the meditation accompanied by details of the benefits of doing the meditations. Snatam Kaur's goal in creating these products was to offer tools for her audiences to use to bring a daily practice of meditation into their lives.
ARTIST / AUTHOR BIOS

With the release of Prem, Snatam Kaur announced the beginning of her solo career and, under the wing of wizard producer Thomas Barquee, many popular CDs followed, including Pren, Grace and Anand, and her groundbreaking recording with Emmy award winning pianist Peter Kater - Heart of the Universe.
---
OTHER PRODUCTS BY OR FEATURING SNATAM KAUR:
PRODUCT DETAILS
Audio CD running time = 61:07
UPC: 801898009423
Producer: Thomas Barquee
Manufacturer: Spirit Voyage Music. Released: 2008
Catalog: CD05133
Product Dimensions: 5.5 x 5 x 0.4 inches (14.0 x 12.7 x 1.0 cm)
Shipping Weight: 0.25 lbs (0.11 kg) Shipping Options
Yoga Technology Sales Ranking (all products): 203
---
CUSTOMERS VIEWING THIS PAGE MAY ALSO BE INTERESTED IN: