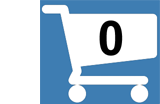 Yoga For Prosperity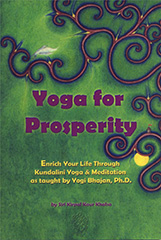 BUY NOW FOR $17.95
Retails for: $20.95 You save: $3.00
Ships FREE to US Customers
Normally ships from our warehouse in 1-2 working days
MORE BOOKS | MORE DVDs | MORE CDs | YOGI TEA
Enrich Your Life through Kundalini Yoga & Meditation
Yoga for Prosperity by Siri Kirpal Kaur presents a practical way to increase your wealth, health and happiness through the Kundalini Yoga practice of breath, mantra, meditation, postures, affirmations and shabads.
Anyone can benefit from this book:
People who have never done yoga and people who teach yoga, people who are financially challenged and people who make millions of dollars each year.
Over 140 illustrations.
No one else can limit you. If you want to limit yourself, you can. Otherwise the entire resources of the Universe are yours to use. -
PRODUCT DETAILS
Book softcover 113 pages
ISBN: 9780965552332
Publisher: Yogi Ji Press, Edition: 2002
Catalog: P06011
Product Dimensions: 9 x 6 x 0.35 inches (22.9 x 15.2 x 0.9 cm)
Shipping Weight: 0.5 lbs (0.23 kg) Shipping Options
Yoga Technology Sales Ranking (all products): 120
---
CUSTOMERS VIEWING THIS PAGE MAY ALSO BE INTERESTED IN:
---
ARTIST / AUTHOR BIOS

Siri Kirpal Kaur has been a student of the teachings of Yogi Bhajan since 1983. She is an artist, a poet, and a classically trained singer, as well as a KRI certified teacher. Since is the founder of an interfaith organization, spoken on televised interfaith panels and has taught Kundalini Yoga to convicted felons.
---
---