Tantric Har - Har Haray Haree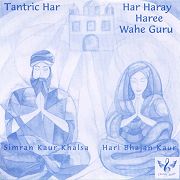 Simran Khalsa | Hari Bhajan Kaur
BUY NOW FOR: $12.95
Retails for - $18.00 You save - $5.05
Ships FREE to US Retail Customers (USPS Media Mail)
Normally ships from our warehouse in 1-2 working days
Tantric Mantra Collection
Tantric Har by Simran Khalsa and Har Haray Haree by Hari Bhajan Kaur are two very effective and different mantras for prosperity.
(Continued below)
CUSTOMERS WHO BOUGHT THIS ITEM ALSO BOUGHT:
This recording of the chant Har is for prosperity. It features poignant African drums, with a soothing synthesizer counterpoint and Simran Kaur's powerful chanting. The tape was played at Woodstock II. This powerful navel chant was made on Yogi Bhajan's request especially for White Tantric Yoga.
Har Haray Haree Wahe Guru
A Celebration for Prosperity! An entertaining and elevating meditation to increase your prosperity consciousness. It's also a very potent healing mantra. Sung beautifully by Hari Bhajan Kaur. 31 minutes of changing music, but a constant chant of Har Haray Haree Wahe Guru.
With Yoga Anatomy, Second Edition, authors Leslie Kaminoff and Amy Matthews, both internationally recognized experts and teachers in anatomy, breathing, and bodywork, have created the ultimate reference for yoga practitioners, instructors, and enthusiasts alike.
Contents:
Chapter 1 Dynamics of Breathing
Chapter 2 Yoga and the Spine
Chapter 3 Skeletal System
Chapter 4 Muscular System
Chapter 5 Inside the Asanas
Chapter 6 Standing Poses
Chapter 7 Sitting Poses
Chapter 8 Kneeling Poses
Chapter 9 Supine Poses
Chapter 10 Prone Poses
Chapter 11 Arm Support Poses
| | | |
| --- | --- | --- |
| 01 | Tantric Har | 32:20 |
| 02 | Har Haray Haree | 31:37 |
PRODUCT DETAILS
Audio CD running time = 63:57
UPC:
Producer: Guru Prem Singh
Manufacturer: Spirit Voyage. Released: 1995
Catalog: CD04012
Product Dimensions: 5.5 x 5 x 0.4 inches (14.0 x 12.7 x 1.0 cm)
Shipping Weight: 0.25 lbs (0.11 kg) Shipping Options
Yoga Technology Sales Ranking (all products): 119
Please note:
Music clips are for our promotional use only and should not be saved on your computer. They are meant to promote the artists and their recordings, and individual copyrights apply. If you enjoy the music please purchase the CD.
OTHER PRODUCTS BY OR FEATURING SIMRAN KHALSA:
Below you will find our selection of other products by Simran Khalsa, competitively priced, and with FREE Shipping to US Retail Customers.

The Hue-man
$17.95

Tantric Sa Ta Na Ma
$12.95

Mool Mantra - Wahe Guru
$12.95


Simran Khalsa grew up surrounded by Kundalini Yoga & music. The Khalsa String Band with Singh Kaur and Guru Singh would often be in New York City (where she grew up) recording and playing live. Her father also plays guitar and the Gurdwara (where there was lots of music) was just down stairs.
Hari Bhajan Kaur's Kundalini Yoga music is filled with courage, faith, beauty & joy, compassion, prayer and spiritual strength. These qualities, combined with her angelic and healing voice, will touch your heart and lift your spirit. Her recording of Long Time Sun is used by Guru Rattana for the closing song for each of her Online Classes.