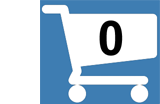 Stress Relief Meditations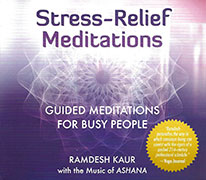 BUY NOW: ONLY $10.95
Retails for: $18.00 You save: $7.05
NEW! - SHOP eBOOKS | SHOP BOOKS| SHOP DVDs | SHOP CDs | SHOP YOGI TEA
Guided Meditations for Busy People
In Stress-Relief Meditations, the third CD of guided meditations from Ramdesh Kaur, you are gently led through a series of practices, including visualizations and breathing exercises, designed to combat stress, providing relief, and enabling you to quickly let go of some of its major causes.
Included are meditations for stress relief, physical healing, opening your heart, releasing anxiety and relieving depression.
The meditations are accompanied by the relaxing sound of crystal bowls and the soothing vocals of Ashana. In just a few minutes you will leave your stress far behind as you are blissfully transported into a zone of deep peace and relaxation.
ARTIST / AUTHOR BIOS
Ramdesh Kaur, writer, broadcaster, world traveler, and teacher of Kundalini Yoga in places as varied as the foothills of the Himalayas and the suburbs of New Jersey, has authored a book "Yoga and Mantras for a Whole Heart" and produced several best-selling meditation CDs.
---
OTHER PRODUCTS BY OR FEATURING RAMDESH KAUR:
PRODUCT DETAILS
Audio CD running time = 65:26
UPC: 888295097796
Manufacturer: Spirit Voyage. Released: 2015
Catalog: CD05343
Product Dimensions: 5.5 x 5 x 0.4 inches (14.0 x 12.7 x 1.0 cm)
Shipping Weight: 0.25 lbs (0.11 kg) Shipping Options
Yoga Technology Sales Ranking (all products): 149
---
CUSTOMERS VIEWING THIS PAGE MAY ALSO BE INTERESTED IN: