Be Happy Achieve Wealth and Heal Yourself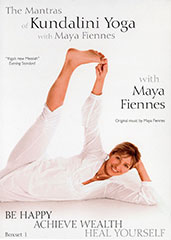 BUY NOW FOR: $24.95
Retails for - $28.95 You save - $4.00
Ships FREE to US Retail Customers (USPS Media Mail)
Eligble for free overseas shipping - orders over $60
Normally ships from our warehouse in 1-2 working days
NTSC Region 0 - for world-wide enjoyment!
The Mantras of Kundalini Yoga - 3 DVD Set
Be Happy, Achieve Wealth and Heal Yourself is the first series of The Mantras of Kundalini Yoga. These three mantra sets will give you the opportunity to grow mentally, physically and spiritually. They will help you to achieve your highest potential and to become the person whom you really are.
CUSTOMERS WHO BOUGHT THIS ITEM ALSO BOUGHT:
OTHER PRODUCTS BY OR FEATURING MAYA FIENNES:
Mantra is a sound vibration which helps bring your entire body to a higher frequency which resonates with the frequency of the Universe. It clears your mind from negative thoughts and promotes the natural healing properties that the body has. That's why specific mantras can act as our healer.
Each mantra creates its own rhythm of breathing, which expresses certain moods and emotions and improves our mental state. Mantras can enable you to hear and see things beyond the physical world, remember dreams and silence the mind.
The practice of mantras can change your experience of life, filling each day with enthusiasm and creative energy. A mantra can make the impossible possible.
PRODUCT DETAILS
DVD running time = 180:00
UPC: 848152000048
Manufacturer: Body in Balance. Released: 2012
Catalog: dv08431
Product Dimensions: 7.5 x 5.4 x 0.6 inches (19.0 x 13.7 x 1.5 cm)
Shipping Weight: 0.65 lbs (0.29 kg) Shipping Options
Yoga Technology Sales Ranking (all products): 34