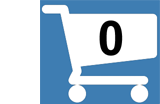 One Creator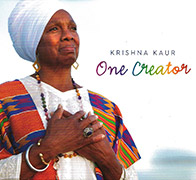 TODAY: ONLY $9.95
Retails for - $17.95 You save - $8.00
Ships FREE to US Customers
Normally ships from our warehouse in 1-2 working days
MORE BOOKS | MORE DVDs | MORE CDs | YOGI TEA
Krishna Kaur's Inspiration comes from Deep Within.
It was Krishna Kaur's students who inspired to release her CD, One Creator. Krishna, who used to sing with the Khalsa String Band and taught youngsters Gurbani Kirtan, often sings while she teaches Kundalini Yoga, and her students told her that a CD would be a good way to share the teachings, her love of the teachings and her devotion to the practice. They also told her that many people would be drawn to the mantras if they knew she was singing them.
Please note:
Music clips are for our promotional use only and should not be saved on your computer. They are meant to promote the artists and their recordings, and individual copyrights apply. If you enjoy the music please purchase the CD.
| | | |
| --- | --- | --- |
| 01 | Ek Ong Kar | 10:52 |
| 02 | Oh My Foolish Mind | 05:10 |
| 03 | Har Gobinda | 07:02 |
| 04 | Tuhi | 11:10 |
| 05 | Rakhe Rakhan Har | 07:02 |
| 06 | One Creator | 04:30 |
| 07 | You are My Lover Lord | 06:23 |
There are many musical influences at work in the various tracks. Her interpretations come from deep within, from her heart and feelings, from her background and influences as a child growing up. Her father was a musician who died early in her life and her mother was also a singer in a band. The family frequently used to sing and harmonize together.
Krishna has two favorite tracks on the album. Ek Ong Kar, because it gives her a lot of clarity in terms of her relationship to God. She heard it played in a gurdwara in India and could not get it out of her head. As she kept singing it, it turned into her own rendition, an expression of longing and searching and experiencing her relationship with the Divine.
You are My Lover Lord first came out in the early 1970s, and Yogi Bhajan kept having her sing the song, but she never sang it unless he called on her to do so. She found it challenging to sing it without him first asking her, but she says she has been working on that.
It was the first time that Krishna Kaur had sung it with musicians playing behind her. It took her into a deep place which was hard for her to describe. It was something special between her and Yogi Bhajan. She believed she had to include this song for him.
PRODUCT DETAILS
Audio CD running time = 52:09
UPC: 884501896559
Producer: Thomas Barquee
Manufacturer: Spirit Voyage Records. Released: 2013
Catalog: CD05141
Product Dimensions: 5.5 x 5 x 0.4 inches (14.0 x 12.7 x 1.0 cm)
Shipping Weight: 0.25 lbs (0.11 kg) Shipping Options
Yoga Technology Sales Ranking (all products): 95
CUSTOMERS WHO BOUGHT THIS ITEM ALSO BOUGHT:
ARTIST / AUTHOR BIOS
Krishna Kaur

Krishna Kaur became one of Yogi Bhajan's first students in the United States. These days her busy schedule includes being the 3HO regional coordinator for Africa and also running Y.O.G.A for Youth. Her work takes her all over the world, spreading the technology of Kundalini Yoga.