Healing Fire.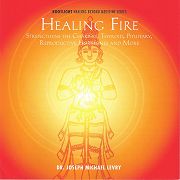 Joseph Michael Levry - Gurunam
BUY NOW FOR $12.95
Retails for - $18.00 You save - $5.05
Ships FREE via USPS to US Retail Customers
Normally ships from our warehouse in 1-2 working days
Healing Beyond Medicine Series
The sound vibrations of Healing Fire give youth, beauty and spiritual illumination. They work on the glandular system and organs. OM (ONG) will take you to a meditative and creative space, and leave you feeling refreshed and revitalized.
Please note:
Music clips are for our promotional use only and should not be saved on your computer. They are meant to promote the artists and their recordings, and individual copyrights apply. If you enjoy the music please purchase the CD.
| | | |
| --- | --- | --- |
| 01 | Ong with Piano (meditational) | 11:42 |
| 02 | Ong with Prayer of Light | 03:14 |
| 03 | Twelve Seed Sounds | 11:32 |
| 04 | Twelve Seed Sounds (instrumental) | 11:32 |
A regular practice of listening to this CD or chanting along with it will serve to strengthen the Chakras, Thyroid, Pituitary, Reproductive Hormones, and more. It will promote good health and help develop intuitive intelligence.
All music on the Rootlight label has been created during the most positive and healing phase of the Moon, to magnify the beneficial impact on the listener. Included with this CD are suggestions for working with these sacred sounds.
PRODUCT DETAILS
Audio CD running time = 38:00
UPC: 682757111927
Producer: Ferenz Kollos
Manufacturer: Rootlight, Inc.. Released: 2001
Catalog: CD03012
Product Dimensions: 5.5 x 5 x 0.4 inches (14.0 x 12.7 x 1.0 cm)
Shipping Weight: 0.25 lbs (0.11 kg) Shipping Options
Yoga Technology Sales Ranking (all products): 268
CUSTOMERS WHO BOUGHT THIS ITEM ALSO BOUGHT:
ARTIST / AUTHOR BIOS
Joseph Michael Levry - Gurunam

Dr. Joseph Michael Levry (Gurunam) has spent over 30 years studying, researching and teaching the sacred sciences of Kundalini Yoga and Kabbalah. He is the founder of Shakti Naam Yoga and is a prolific writer and recording artist, having published a substantial number of books and mantra CDs.
OTHER PRODUCTS BY OR FEATURING JOSEPH MICHAEL LEVRY - GURUNAM:
Below you will find our selection of other products by Joseph Michael Levry - Gurunam, competitively priced, and with FREE Shipping to US Retail Customers.