Green House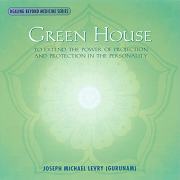 SHOP BOOKS | SHOP DVDs | SHOP CDs | SHOP YOGI TEA
To Extend the Power of Projection and Protection in the Personality
The sound vibrations on Green House extend the psycho-electromagnetic field and extend the power of projection and protection in the personality of the chanter or listener.
Please note:
Music clips are for our promotional use only and should not be saved on your computer. They are meant to promote the artists and their recordings, and individual copyrights apply. If you enjoy the music please purchase the CD.
| | | |
| --- | --- | --- |
| 01 | Har Har Har Har Gobinday | 11:33 |
| 02 | Har Haray Haree Wahe Guru | 31:00 |
| 03 | Har Haray Haree (Adagio) | 12:40 |
They work with the creative forces of the Universe to protect one from negativity and misfortune, while helping you achieve a productive and fulfilling life. They help develop personal confidence and convert anxiety and fear into determination, while bestowing spiritual growth and radiance.
All music on the Rootlight label has been created during the most positive and healing phase of the Moon to magnify the beneficial impact upon the listener. Included with the CD are suggestions for working with these sacred sounds.
ARTIST / AUTHOR BIOS

Dr. Joseph Michael Levry (Gurunam) has spent over 30 years studying, researching and teaching the sacred sciences of Kundalini Yoga and Kabbalah. He is the founder of Shakti Naam Yoga and is a prolific writer and recording artist, having published a substantial number of books and mantra CDs.
---
OTHER PRODUCTS BY OR FEATURING JOSEPH MICHAEL LEVRY - GURUNAM:
PRODUCT DETAILS
Audio CD running time = 55:13
UPC: 682757112382
Producer: Ferenz Kallos
Manufacturer: Rootlight, Inc.. Released: 2002
Catalog: CD03008
Product Dimensions: 5.5 x 5 x 0.4 inches (14.0 x 12.7 x 1.0 cm)
Shipping Weight: 0.25 lbs (0.11 kg) Shipping Options
Yoga Technology Sales Ranking (all products): 213
---
CUSTOMERS VIEWING THIS PAGE MAY ALSO BE INTERESTED IN: