Breath of Devotion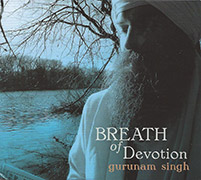 TODAY: ONLY $10.95
Retails for: $18.00 You save: $7.05
SHOP BOOKS | SHOP DVDs | SHOP CDs | SHOP YOGI TEA
Devotional Mantras
Breath of Devotion by Gurunam Singh came out simultaneously with Union and was named this way for the deep breath, the life, the prana that the mantras have offered to Gurunam. He, in turn, now offers them to you. While listening to this sacred offering you can enjoy Gurunam's deep, strong and devotional voice. Breath of Devotion was produced by Thomas Barquee, who has also produced Gurunam's other recent CDs. It also features the blessed backing vocals of Simrit Kaur.
Please note:
Music clips are for our promotional use only and should not be saved on your computer. They are meant to promote the artists and their recordings, and individual copyrights apply. If you enjoy the music please purchase the CD.
| | | |
| --- | --- | --- |
| 01 | Gobinday | 07:58 |
| 02 | Sat Nam Wahe Guru | 10:41 |
| 03 | Ra Ma Da Sa | 07:15 |
| 04 | Wahe Guru Wahe Jio | 11:11 |
| 05 | Pavan Guru | 09:26 |
| 06 | Canyons | 05:01 |
| 07 | I Can't Stop You (Bonus Track) | 04:38 |
Gobinday is for courage and neutrality. Besides helping cleanse the subconscious mind, it balances the hemispheres of the brain, bringing compassion and patience to the one who meditates on it. It is said that the Har mantra develops will power.
"This mantra is to fix the mental to prosperity or power... When you chant this mantra with the breath of life, it's quick, it's purposeful, and it brings in what you need to bring in..." -
Sat Nam, Wahe Guru is a mantra which Gurunam loves to chant at kirtans. He will sing "Sat Nam" and the group repeats "Wahe Guru". During one recent trip to Germany, at the end of an intermission, everyone was spaced out and not returning to sing quickly. This mantra spontaneously arose and the group chanted it until everyone came back and started chanting together. The effect was so overwhelming that he has been singing it at kirtans ever since.
Ra Ma Da Sa is a very effective and efficient healing mantra, It taps into the energies of the sun, moon, earth, and the Infinite Spirit to bring deep healing. It can be chanted to heal the self or to send healing energy to anyone you wish.
Meditating with Wahe Guru Wahe Jio will cleanse and heal. It links your purpose to the higher souls in the cosmos. It is an amazing experience to chant it while the sun rises. Yogi Bhajan said this mantra means "clear perception of what is important to preserve" and that it "links the essence of your purpose to the greater minds and souls in the cosmos."
Pavan is the air, the breath, carrier of the prana, the life force. Whoever recites Pavan Guru becomes absolutely divine. This mantra increases the pranic energy, promoting the divine breath of life. There is no better healing than this.
Canyons: The first verse of this poem was written by Gurunam during his senior year at high school, with the help of a close friend. "It showed a deep longing in us each for something more. As we touch in, touch the lakes of sanity and peace, we can wake up and live seeing through the eyes of the soul. We can fly into the Canyon together. That is my dream and my hope for us all..."
I Can't Stop You, the bonus track, was almost left off the CD because it did not seem "yogic" enough, but the honesty of its sentiments won through.
ARTIST / AUTHOR BIOS
Gurunam Singh's musical influences range from gospel, folk and country to classical Indian raag and from traditional Sikh hymns to devotional Hindu chants, but the essence of his music is very simple. Anyone can chant along to his Kundalini Yoga mantra arrangements.
---
OTHER PRODUCTS BY OR FEATURING GURUNAM SINGH: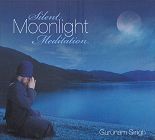 Silent Moonlight Meditation
$10.95
PRODUCT DETAILS
Audio CD running time = 56:10
UPC: 700261384719
Producer: Thomas Barquee
Manufacturer: Gurunam Singh. Released: 2013
Catalog: CD05166
Product Dimensions: 5.5 x 5 x 0.2 inches (14.0 x 12.7 x 0.5 cm)
Shipping Weight: 0.25 lbs (0.11 kg) Shipping Options
Yoga Technology Sales Ranking (all products): 248
---
CUSTOMERS VIEWING THIS PAGE MAY ALSO BE INTERESTED IN: