Sa Re Sa Sa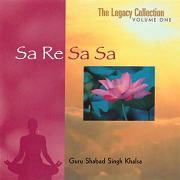 TODAY: ONLY $9.95
Retails for: $18.00 You save: $8.05
SHOP BOOKS | SHOP DVDs | SHOP CDs | SHOP YOGI TEA
The Legacy Collection, Vol. 1
Sa Re Sa Sa (SaReSaSa) by Guru Shabad Singh Khalsa, is thought by many to be his most beautiful recording, and is certainly extremely popular with our visitors. This CD is a wonderful aid to meditation, and contains two mantras fundamentally linked to the teachings of Yogi Bhajan. Guru Shabad has a very soothing voice, perfect for a meditation.
Please note:
Music clips are for our promotional use only and should not be saved on your computer. They are meant to promote the artists and their recordings, and individual copyrights apply. If you enjoy the music please purchase the CD.
Challenges are a part of life. Struggles to resolve them help us to become stronger and solidify our focus. It is though, when they become overwhelming, that a mantra can help. Chanting a mantra gives you refuge in a sacred space where problems can't touch you. The individual mantra can then work its particular vibratory energy into your energetic field and out into the cosmos. Things change. Shift happens, Obstacles lift.
Sa Re Sa Sa - When you are surrounded by challenges and you feel like no one is hearing you, when you need to lift yourself above adversity, when you need greater wisdom and a sense of peace, reach for this simple, but powerful mantra. It is very easy to pick up and chant, so the minimal effort involved in learning it certainly won't add to life's challenges.
Sa Re Sa Sa, Sa Re Sa Sa, Sa Re Sa Sa, Sa Rung
Har Re Har Har, Har Re Har Har, Har Re Har Har, Har Rung
The mantra translates as "That Infinite Totality is here, everywhere. That creativity of God is here, everywhere."
Sa is the Infinite, God. It connect with the element of ether. Har is the power of manifestation and creativity of God. Encapsulating the tangible and the personal, it connects with the element of Earth. Ung is a sound that projects outward into infinity. This mantra connects you with your own capability for powerful communication. You will become wiser and peace and prosperity will enter into your field.
Anyone who practices this meditation is granted prosperity, creativity and protection against attacks. It gives new power to your words and will bring good luck. It will open the chakras for the full effect of any other mantra. It is a sensitizing meditation for the impact of the inner sound current.
"This is the base mantra of all mantras. You must perfect this mantra before all others. Before this mantra adversity can not stand. It gives you the power of communication. Your words shall have mastery and impact." -
To perform the meditation, first let the arms extend straight and rest over the knees. Make Buddhi Mudra with both hands (touch the fleshy pad of the thumb tip to the nail tip of the little finger). The other fingers are relaxed but straight. (The yogis associate Buddhi Mudra with the planet Mercury. It is for invoking mental and psychic powers of communication.)
Become completely still in the posture, both physically and mentally, like a calm ocean. Listen to the chant for a minute. Feel its rhythm in every cell. Then join in the mantra.
Continue for 11-31 minutes.
End: Inhale, hold briefly, exhale and relax.
Wahe Guru Jio - This is the other mantra on the CD - Wahe Guru is a mantra of ecstasy. This mantra means indescribably great is God's infinite, ultimate wisdom. Jio is an affectionate, but still respectful variation of the word Ji, which means soul.
ARTIST / AUTHOR BIOS
Guru Shabad Singh Khalsa, a pioneer of Kundalini Yoga Music, has inspired thousands of yoga teachers, their students and their student's students for well over thirty years. His recordings are evergreens, including a long line of heartfelt songs and yogic chants and mantras, and his music has been performed in temples and yoga centers around the world.
---
OTHER PRODUCTS BY OR FEATURING GURU SHABAD SINGH:

Beloved
$10.95

Illumination
$10.95
PRODUCT DETAILS
Audio CD running time = 62:03
UPC:
Manufacturer: Legacy Music. Released: 2000
Catalog: CD15003
Product Dimensions: 5.5 x 5 x 0.4 inches (14.0 x 12.7 x 1.0 cm)
Shipping Weight: 0.25 lbs (0.11 kg) Shipping Options
Yoga Technology Sales Ranking (all products): 183
---
CUSTOMERS VIEWING THIS PAGE MAY ALSO BE INTERESTED IN: