Introduction to Kundalini Yoga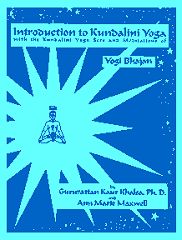 BUY NOW FOR: $17.95
Retails for - $20.00 You save - $2.05
Ships FREE to US Retail Customers (USPS Media Mail)
Normally ships from our warehouse in 1-2 working days
Yogi Bhajan's "Greatest Hits"
"Introduction to Kundalini Yoga" by Guru Rattana (Gururattan Kaur Khalsa) is an ideal book for beginners. It answers some of your most basic questions about raising the Kundalini, explains the fundamentals and the benefits of Kundalini yoga and meditation, outlines what to expect when you begin a spiritual practice and helps you get started with your personal practice.
(Continued below)
CUSTOMERS WHO BOUGHT THIS ITEM ALSO BOUGHT:
A special section explains how you can use Kundalini yoga and meditation to attain personal power and inner peace. Contains some of the most popular yoga sets and meditations as brought to the West by Yogi Bhajan.
18 Sets, 22 Meditations, 14 Mantras
Introduction to the Basics of KY
Clear and Rest your Mind
Strengthen and Enliven your Body
Feel Good Fast
Prepare for Deep Meditation
Large Clear Format - Beautifully illustrated
PRODUCT DETAILS
Manual (comb binding) 126 pages
ISBN: 9781888029055
Publisher: Yoga Technology Press, Edition: 1989
Catalog: P01004
Product Dimensions: 11 x 8.5 x 0.25 inches (27.9 x 21.6 x 0.6 cm)
Shipping Weight: 1.1 lbs (0.50 kg) Shipping Options
Yoga Technology Sales Ranking (all products): 58
OTHER PRODUCTS BY OR FEATURING GURU RATTANA PHD:
Below you will find our selection of other products by Guru Rattana PhD, competitively priced, and with FREE Shipping to US Retail Customers.

Relax and Renew
$22.95

The Power of Neutral
$29.95

The Inner Art of Love
$24.95

Sexuality and Spirituality
$22.95

Your Life is in Your Chakras
$12.00

The Gift of Womanhood
$34.95

The Destiny of Women
$12.95