Joy is Now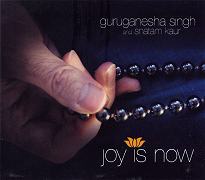 TODAY: ONLY $9.95
Retails for: $18.00 You save: $8.05
SHOP BOOKS | SHOP DVDs | SHOP CDs | SHOP YOGI TEA
Discover the infinite nature of musical possibilities. GuruGanesha Singh and Snatam Kaur share sublime kirtan accompanied by virtuoso raag-jazz instrumental performances, featuring Guru Ganesha's signature guitar and a stunning array of classical Indian instruments.
Please note:
Music clips are for our promotional use only and should not be saved on your computer. They are meant to promote the artists and their recordings, and individual copyrights apply. If you enjoy the music please purchase the CD.
| | | |
| --- | --- | --- |
| 01 | Peace has Begun | 09:21 |
| 02 | Hari Om | 11:21 |
| 03 | Joy is Now | 09:21 |
| 04 | Aad Sach | 09:53 |
| 05 | Sat Narayan | 08:51 |
| 06 | Guru Ram Das Love Song | 09:11 |
ARTIST / AUTHOR BIOS
Guru Ganesha Singh - songwriter, musician, recording artist, entrepreneur and founder of the Guru Ganesha Band, was an enthusiastic participant in the 1960's rock and roll explosion. When he embraced Sikhism and the Kundalini Yoga of Yogi Bhajan, he brought his love of Western music to the Eastern traditions of his new Sikh lifestyle. He was one of the pioneers of the new genre of Kundalini Yoga mantra meditation music, and since that time he has contributed greatly to its on-going growth and development.

With the release of Prem, Snatam Kaur announced the beginning of her solo career and, under the wing of wizard producer Thomas Barquee, many popular CDs followed, including Pren, Grace and Anand, and her groundbreaking recording with Emmy award winning pianist Peter Kater - Heart of the Universe.
---
OTHER PRODUCTS BY OR FEATURING GURU GANESHA: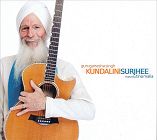 Kundalini Surjhee
$10.95
PRODUCT DETAILS
Audio CD running time = 57:58
UPC: 801898009522
Producer: Thomas Barquee
Manufacturer: Spirit Voyage Music. Released: 2008
Catalog: CD05033
Product Dimensions: 5.5 x 5 x 0.4 inches (14.0 x 12.7 x 1.0 cm)
Shipping Weight: 0.25 lbs (0.11 kg) Shipping Options
Yoga Technology Sales Ranking (all products): 210
---
CUSTOMERS VIEWING THIS PAGE MAY ALSO BE INTERESTED IN: