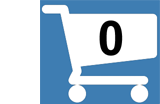 A Thousand Suns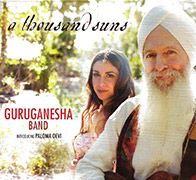 Guru Ganesha | GuruGanesha Band
TODAY: ONLY $9.95
Retails for: $17.95 You save: $8.00
NEW! - SHOP eBOOKS | SHOP BOOKS| SHOP DVDs | SHOP CDs | SHOP YOGI TEA
Paloma Devi Shines Brighter than a Thousand Suns!
The newly formed GuruGanesha Band has certainly hit the ground running, with the release of their superb debut album, A Thousand Suns. They have succeeded in elevating the world devotional music genre to new heights, and in doing so are sure to reach out on the international stage to a much wider audience.
Please note:
Music clips are for our promotional use only and should not be saved on your computer. They are meant to promote the artists and their recordings, and individual copyrights apply. If you enjoy the music please purchase the CD.
Alongside guitarist, vocalist and songwriter Guru Ganesha, the man whose mantra music has helped inspire a generation of Kundalini Yoga students, are as accomplished a bunch of musicians as you are likely to find anywhere, including multi strings instrumentalist Hans Christian and keyboard wizard Thomas Barquee and newcomer – gifted vocalist Paolma Devi.
Coming from a long and successful run managing and accompanying Snatam Kaur, and following his string of solo albums, Guru Ganesha is no stranger to mantra. However, A Thousand Suns may well be his finest hour, a crowning achievement. His mastery of both electric and acoustic guitars is self-evident, and an aural delight for the listener.
A Thousand Suns is, above all, an ensemble effort. Instrumentally, GuruGanesha is well matched by Hans Christian, whose masterfully handled cello, saranghi, nyckelharpa, sitara and other stringed instruments alternate and intertwine with GuruGanesha's guitar leads. Vocally as well, the album is solidly grounded, the voice of GuruGanesha complimented by the enrapturing voice of rising star, Paloma Devi.
The album's six tracks serve up a wide range of musical styles, reflecting the artists' diverse gifts and sensibilities, ranging from meditative ballad with gospel/folk overtones through Hindu mantra and latin rhythms to rock and roll.
"Open your heart" is the repeated refrain from the title track. That is exactly what this album achieves, and as a harbinger of things yet to come, it heralds a new and exciting phase in the burgeoning career of Guru Ganesha.
ARTIST / AUTHOR BIOS
Guru Ganesha Singh - songwriter, musician, recording artist, entrepreneur and founder of the Guru Ganesha Band, was an enthusiastic participant in the 1960's rock and roll explosion. When he embraced Sikhism and the Kundalini Yoga of Yogi Bhajan, he brought his love of Western music to the Eastern traditions of his new Sikh lifestyle. He was one of the pioneers of the new genre of Kundalini Yoga mantra meditation music, and since that time he has contributed greatly to its on-going growth and development.
---
OTHER PRODUCTS BY OR FEATURING GURU GANESHA: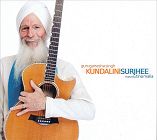 Kundalini Surjhee
$10.95
PRODUCT DETAILS
Audio CD running time = 43:47
UPC: 884501891615
Producer: Thomas Barquee
Manufacturer: Spirit Voyage Records. Released: 2013
Catalog: CD05035
Product Dimensions: 5.5 x 5 x 0.4 inches (14.0 x 12.7 x 1.0 cm)
Shipping Weight: 0.25 lbs (0.11 kg) Shipping Options
Yoga Technology Sales Ranking (all products): 240
---
CUSTOMERS VIEWING THIS PAGE MAY ALSO BE INTERESTED IN: