Mantras and Mudras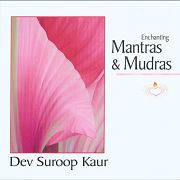 TODAY: ONLY $9.95
Retails for: $18.00 You save: $8.05
SHOP BOOKS | SHOP DVDs | SHOP CDs | SHOP YOGI TEA
Be Enchanted!
Each of these musical meditations opens an inner gateway to your spirit. They reach beyond limitations to tap the sacred power of the Word, using the sacred science of the sound current as shared by Yogi Bhajan.
Please note:
Music clips are for our promotional use only and should not be saved on your computer. They are meant to promote the artists and their recordings, and individual copyrights apply. If you enjoy the music please purchase the CD.
| | | |
| --- | --- | --- |
| 01 | Adi Shakti | 06:13 |
| 02 | Rakhay Rakhanahaar | 09:07 |
| 03 | Ad Such Jugaad Such Haibhay Such | 06:33 |
| 04 | Oothai Tayree Rakh Aganee | 09:34 |
| 05 | Chay Ghar Chay Gur Chay Upadays | 08:08 |
| 06 | Ad Such Jugaad Such Haibhay Such | 07:34 |
| 07 | Aad Guray Nameh | 07:45 |
The beautiful songs on Mantras and Mudras by Dev Suroop Kaur provide the rare opportunity to hear Yogi Bhajan's profound and graceful English interpretations of sacred Gurmukhi mantras. In 1998 Yogi Bhajan personally requested that these specific mantras be put to music and recorded. In the process of creating the music, he provided poetic English translations that capture the essence of the mantra, as well as specific mudras to heighten their effect.
This collection of mantras reminds us of our grace and sacredness, allowing us to move through life with greater ease, assurance and peace.
The accompanying sleeve notes include photographs showing the correct form of mudra to employ with each meditation.
ARTIST / AUTHOR BIOS

Dev Suroop Kaur, an accomplished musician, recording artist, and teacher of Kundalini Yoga and Naad Yoga, is skilled at using the art of sound to create an experience of deep transformation and healing. She specializes in training yoga teachers in the science of Naad Yoga, the skill of conscious communication, and the art of teaching others to access the beauty and power of their personal voice.
---
OTHER PRODUCTS BY OR FEATURING DEV SUROOP KAUR:

Chants Eternal
$10.95

Narayan
$10.95
PRODUCT DETAILS
Audio CD running time = 54:54
UPC: 724007900520
Producer: Liv Singh Khalsa
Manufacturer: Anahad Productions. Released: 2005
Catalog: CD05604
Product Dimensions: 5.5 x 5 x 0.4 inches (14.0 x 12.7 x 1.0 cm)
Shipping Weight: 0.25 lbs (0.11 kg) Shipping Options
Yoga Technology Sales Ranking (all products): 207
---
CUSTOMERS VIEWING THIS PAGE MAY ALSO BE INTERESTED IN: