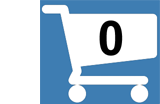 Radiant Health and Authentic Happiness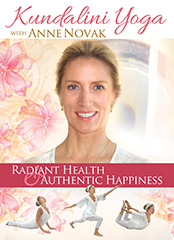 BUY NOW: ONLY $14.95
Retails for: $21.95 You save: $7.00
NEW! - SHOP eBOOKS | SHOP BOOKS| SHOP DVDs | SHOP CDs | SHOP YOGI TEA
Kundalini Yoga
Kundalini Yoga for Radiant Health and Authentic Happiness by Anne Novak offers fantastic value. This 3 hour instructional DVD is the next best thing to private training! With 2 different warm-up sequences and 3 yoga sets and meditations to choose from, this mix and match 3 yoga class DVD will keep you engaged and thriving. Anne's careful, comprehensive and inspiring teaching will keep you centered and uplifted through your entire practice.
A separate introductory section teaches you the basics of Kundalini Yoga as taught by Yogi Bhajan from how to meditate to why to meditate; from breathing to body locks; from mudras to eye focus. Anne's accessible, inviting style will instantly make you feel comfortable no matter what your fitness or experience level!
Jump into specially designed yoga sets and meditations to balance your emotions, to develop grace and strength under pressure and feel your own limitlessness. Boost your health and fitness, your mood and your life and shine from the inside out!
Bonus extras: relax deeply with the healing sound of the gong and experience the bliss of live kirtan with a chant concert featuring the immensely talented Gurunam Singh, whose music is also available from Yoga Technology.
"Anne Novak is a Goddess of light and clarity. I love her classes! Kundalini Yoga is and ancient practice.... both transcendent and practical. It will change your life!" ~
"Kundalini Yoga with Anne Novak: Radiant Health and Authentic Happiness is an incredible opportunity to study with one of Kundalini Yoga's most loved teachers." ~
ARTIST / AUTHOR BIOS

Anne Novak's journey to Kundalini Yoga came after a lifetime studying physical therapy and involvement with the health and fitness industry. An ACE-Certified Personal Fitness Trainer and a certified hypnotherapist, she developed a deep and abiding love affair with the Kundalini Yoga of Yogi Bhajan.
PRODUCT DETAILS
DVD running time = 190:00
UPC: 884501851015
Manufacturer: Seva Simran Productions. Released: 2013
Catalog: DV08201
Product Dimensions: 7.5 x 5.4 x 0.6 inches (19.0 x 13.7 x 1.5 cm)
Shipping Weight: 0.25 lbs (0.11 kg) Shipping Options
Yoga Technology Sales Ranking (all products): 94
---
CUSTOMERS VIEWING THIS PAGE MAY ALSO BE INTERESTED IN: