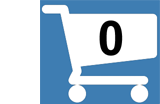 Kundalini Yoga For The Heart Chakra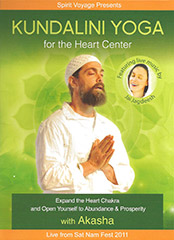 Akasha | Jai-Jagdeesh
TODAY: ONLY $12.95
Retails for: $22.95 You save: $10.00
Ships FREE to US Customers
Normally ships from our warehouse in 1-2 working days
NTSC Region 0 - for world-wide enjoyment!
MORE BOOKS | MORE DVDs | MORE CDs | YOGI TEA
Open Yourself to Abundance and Prosperity
Kundalini Yoga for the Heart Center, an absorbing Kundalini Yoga session featuring charismatic teacher Akasha, and with live music from Jai-Jagdeesh, brings Sat Nam Fest straight into your living room. The exercises seem to flow together, and they all focus on opening your heart center to fully embrace life's possibilities.
In this live recording from Sat Nam Fest 2011, Akasha will guide you gently through a series of thirteen beneficial poses. Included in the exercises are body drops to stimulate the root chakra and remove fear, and spinal flexes which will limber up your spine and engage your heart center.
This session also includes Kundalini Lotus, the Green Energy Meditation, Trea Kriya (accompanied by the mantra "Ong Sohung"), a peaceful savansana session and more. While you are performing the exercises you will be guided by the warm and tender demeanor of Akasha, who has the ability to reach out to each student individually even through the medium of this recorded session. You can also enjoy the soulful singing of Jai-Jagdeesh and her band.
PRODUCT DETAILS
DVD running time = 60:00
UPC: 884501789080
Manufacturer: Spirit Voyage Publishing. Released: 2012
Catalog: DV05041
Product Dimensions: 7.5 x 5.4 x 0.36 inches (19.0 x 13.7 x 0.9 cm)
Shipping Weight: 0.25 lbs (0.11 kg) Shipping Options
Yoga Technology Sales Ranking (all products): 112
---
CUSTOMERS VIEWING THIS PAGE MAY ALSO BE INTERESTED IN:
---
---
---