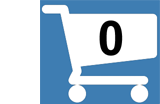 Kundalini Yoga For Memory And Magnetism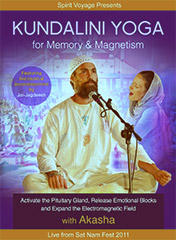 Akasha | Jai-Jagdeesh
TODAY: ONLY $12.95
Retails for: $22.95 You save: $10.00
Ships FREE to US Customers
Normally ships from our warehouse in 1-2 working days
NTSC Region 0 - for world-wide enjoyment!
SORRY BUT THIS ITEM HAS BEEN DISCONTINUED.
MORE BOOKS | MORE DVDs | MORE CDs | YOGI TEA
Activate Your Pituitary Gland & Release Emotional Blocks
Kundalini Yoga for Memory & Magnetism, featuring popular teacher Akasha, was recorded live at Sat Nam Fest 2011. This illuminating and therapeutic session consists of a one-hour Kundalini Yoga class that will activate your pituitary gland, improve brain function, release emotional blocks and expand your electromagnetic field.
Enjoy Akasha's warm, heart-centered approach, as you undertake this invigorating exercise set or kriya, which will help increase circulation to your brain and expand your radiance. This Kundalini Yoga set, consisting of spinal twists, elephant walk, modified pigeon pose, 3rd eye visualization and more, will build your memory, and strengthen your brain, your mind, and your overall projection.
The final part of the kriya will help you expand your radiance, making you a magnet for the blessings of this life. This class can become part of your daily practice. Try it once or, for optimal benefits, commit to a 40-day practice to strengthen your lymph system, tighten your abdominals, and detoxify your body.
Join hundreds of yogis and yoginis as you practice this incredible yoga set and be uplifted by the group energy no matter where you are. Akasha guides the viewer with an encouraging tone and ample explanation of the moves. Joining Akasha on stage are Jai-Jagdeesh, whose sweet vocals provide a lilting backdrop for the session, while Sat Kartar Singh performs on guitar and Sukhmani Kaur Rayat plays the tabla.
PRODUCT DETAILS
DVD running time = 60:00
UPC: 884501743358
Manufacturer: Spirit Voyage Publishing. Released: 2012
Catalog: DV05042
Product Dimensions: 7.5 x 5.4 x 0.36 inches (19.0 x 13.7 x 0.9 cm)
Shipping Weight: 0.25 lbs (0.11 kg) Shipping Options
Yoga Technology Sales Ranking (all products): 71
---
CUSTOMERS VIEWING THIS PAGE MAY ALSO BE INTERESTED IN:
---
---
OTHER PRODUCTS BY OR FEATURING AKASHA:
---